The seat cover has a thin profile, however it will still alter your driving position completely. You'll need to adjust everything to find a new position that works for you.
BHPian krishnakumar recently shared this with other enthusiasts.
Riggear Ventilated Seat Covers – Is it an alternative to Ventilated Seats?
Ventilated seats are one of the most demanded features in India (maybe after the sunroof ) and rightfully so. When I was shopping around for a car in 2021, this was one of the top features I was looking to have in my car. But after a fair battle between the contenders, I chose to go with XUV300 that does not have ventilated seats.
I was okay to settle for this but then chanced upon a post on the Citroen C5 Aircross Review thread that piqued my interest on aftermarket accessories. I had in fact searched this earlier but nothing stood out and had stopped looking for options.
I searched again and came across this option on Amazon – RIGGEAR Ventilated Seat Cover
I had a Bangalore to Mumbai drive coming up and I was excited to test something like this out as this would be the perfect usecase for ventilated seats.
But as it is common with small seller listings on Amazon, the price is likely to be inflated. So, some further searches later, I contacted the seller directly to purchase and got a much better deal and a same day delivery as well (since they have a warehouse located in Bangalore). Placed the order at 4pm and I got the product delivered at 8pm.
I have only bought the driver side seat cover. Riggear also sells a co-driver seat cover as a separate unit.
Product features:
Leatherette + Breathable Mesh Fabric material construction.
Uses a 5+5 fan system; that is, 5 fans for the back and 5 fans for the bottom.
Universal fitment to most cars
3 stages of fan control. This button doubles as the power on/off button as well and has an integrated LED indicator that glows Red for high speed, Green for medium and Blue for low speed.
Unboxing:
The product came nicely packed in a large flat box. The box contains:
Ventilated seat cover for driver
A set of manual and instructions (along with product disclaimers).
A power cable with a 12V plug; the plug has to output wires. So the same can be used to power the co-passenger seat cover as well (if bought).
Here's a 1 minute montage of the unboxing.
Fitting it on my car:
This is dead easy to fit on any car. The instructions along with the product are very clear. There are 2 disc shaped plastic clips which needs to be squeezed through the gap between seat back and seat bottom. This holds the seat cover close to the seat. My car has a flap at the bottom that is held by two straps with a clip, which can be easily removed to access the gap. Loop the neck strap of seat cover around the head rests and voila, you're done.
Notice how the disc shaped retainer is locking the cover in position: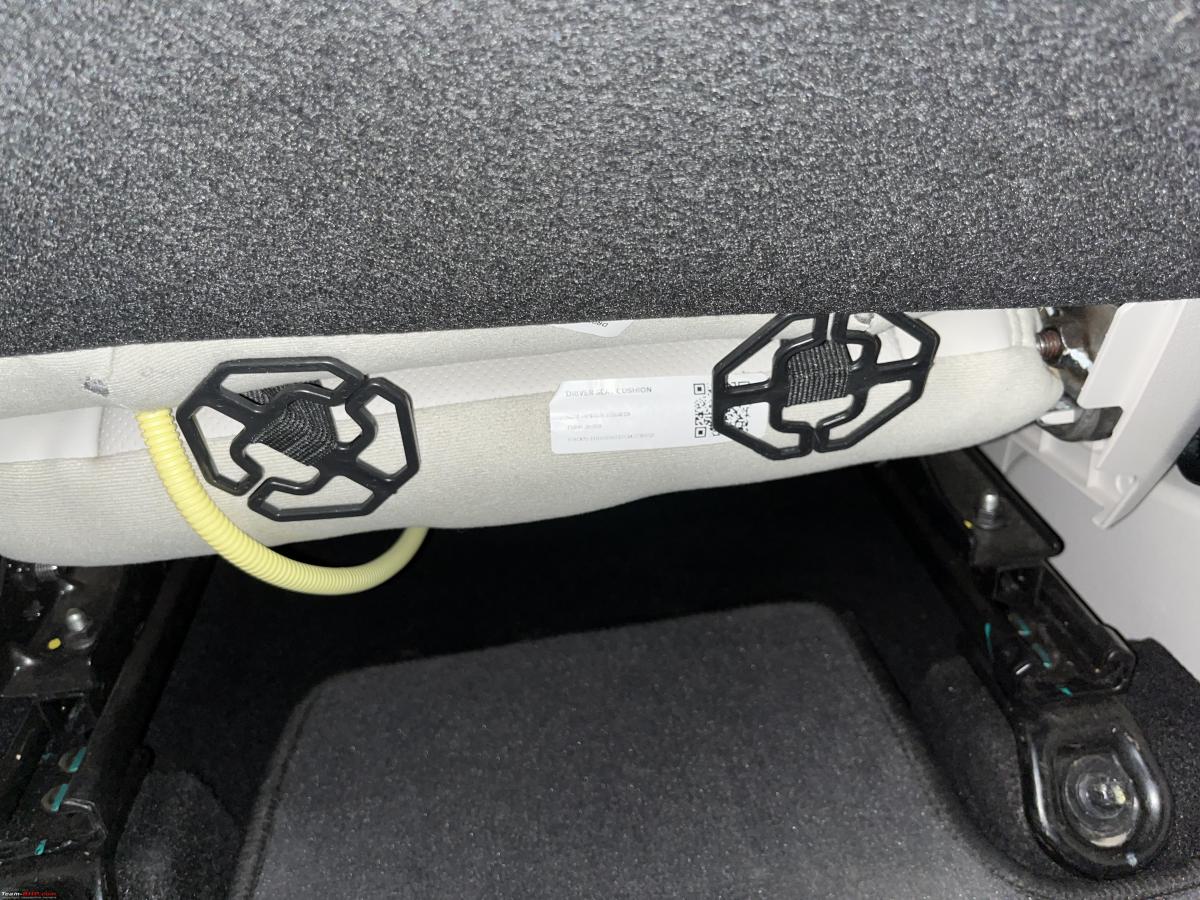 Looks neat. Even though the cover is Black in color (only available color) it doesn't look off with the beige interiors: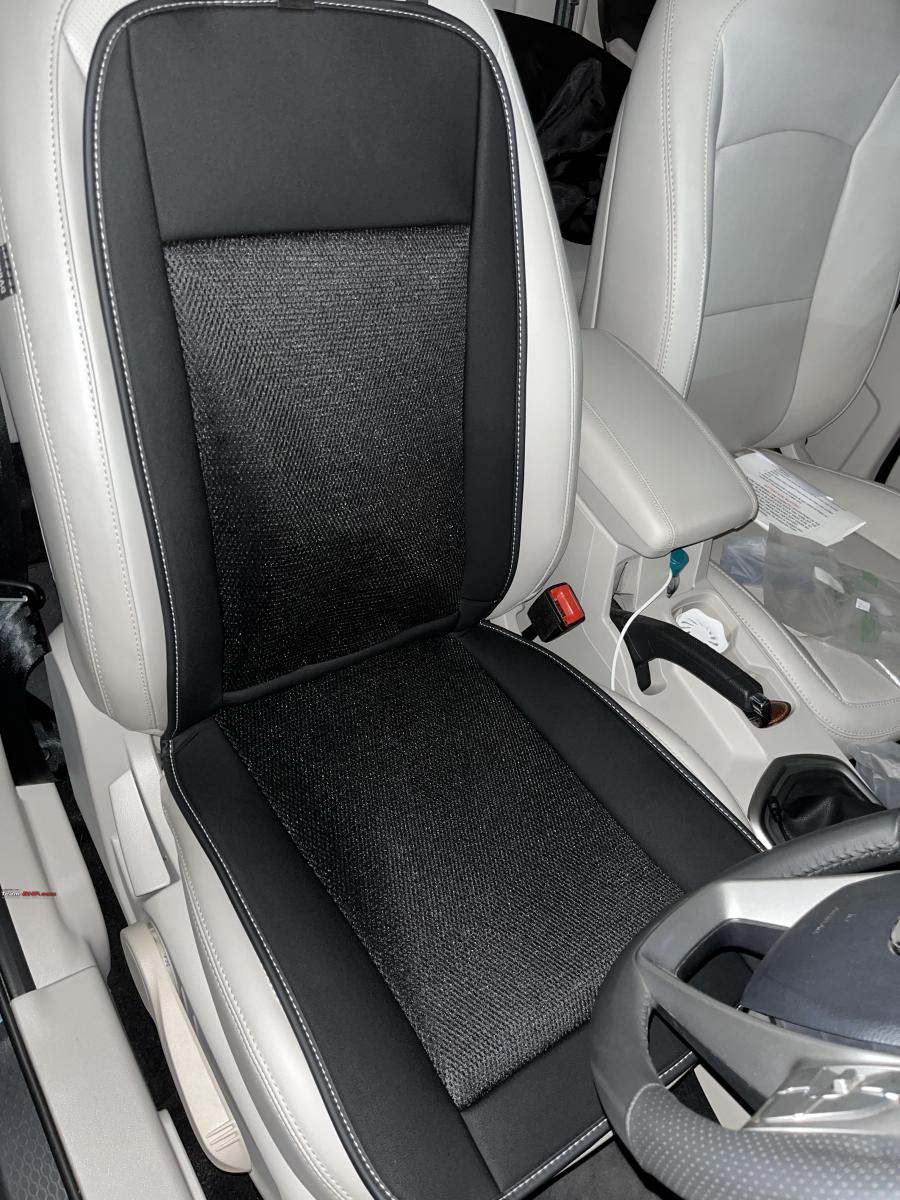 Based on the clearance from side bolsters, looks like it will not foul with airbag mechanism: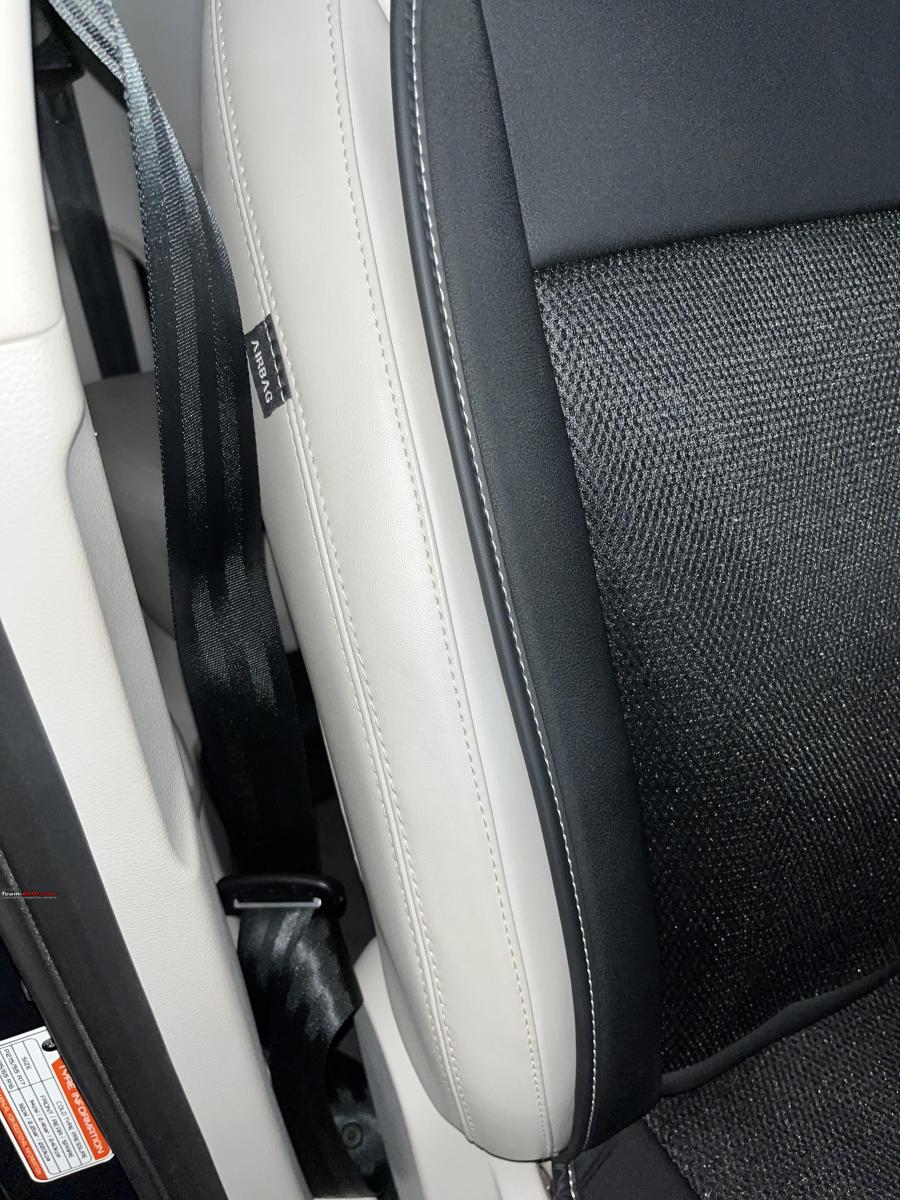 My review after using it for 1000+ km:
Ergonomics/comfort:
The seat cover has a thin profile, however it will still alter your driving position completely. You'll need to adjust everything to find a new position that works for you.
The anti-slip material ensures there is no sliding around during ingress/egress or while operating the pedals. This is super useful and not once in the 1000 km drive did it move.
The button for fan control is also ergonomically located, just below the left leg thigh and doesn't foul with any leg movement. Also the LED indicator gets covered with the left leg so the light doesn't bother at night.
There is some slight drop in comfort while sitting on the cover. This is because now you're sitting on netted/mesh kind of surface and it isn't as soft as the leatherette of my seat. However, it isn't causing any pain/discomfort and I got used to it after some time. I certainly couldn't feel the array of fans, so that is a great plus!
Functionality/User Experience:
The ventilation can be started by long-pressing the fan speed button. The ventilation always starts at Highest speed (Red), while the recommended speed is lowest. So essentially, it takes 1 long press and 2 clicks to get the seat ventilation operating.
You could immediately start feeling the blower on the lower back/bottom but it takes ~2 mins before you can feel the blower on your back. Overall, it is quite effective in keeping the back, bottom and thighs fresh and dry.
Noise levels are super low in the lowest setting. I tested this in my basement, with the engine, music and AC off, and the sound is just barely noticeable at the lowest level. At the highest level it is somewhat noticeable but again when everything else is off. If you run the car's AC even at a blower speed of 2-3, it would easily mask the seat cover fan speed. In short, fan noise is least of your concern – excellent job on this one.
The product will turn off if you restart the engine even when the accessory power is on. This is a bit cumbersome while using Auto Stop/Start feature. The product will remain on when the engine auto stops but when it auto starts, the power is cut off (as it should be) turning the product off. I'd have really liked if the product came with a memory/UPS function account for this.
Durability:
This is always a gamble with aftermarket accessories. However, looking at the material construction I'm hoping it will hold up good for a year of regular usage. I'll update this over the course of time.
Summary:
A very effective product indeed; would rate this 9/10 based on current experience. I'd totally recommend this product if someone is looking for such an option.
It should be noted that you'll not get the same effectiveness compared to a factory fitted ventilated seats. This is clarified in a product disclaimer that is mentioned in the user manual as well. The product simply works on evaporative cooling and doesn't actually provide cool air. However, if the rest of the car is cool with AC then this will "feel cool". You'd also stop feeling the ventilation after a while but I'm assuming it is the same with factory fitted ventilation as well. This is not the product stopping to work but rather your body doesn't distinguish the circulation. However, not once did I feel swampy while using this.
As an improvement to this, I'm exploring if this could be hardwired to the car (using fusetaps) and if it would prevent the power cutoff when starting the engine. But that's something for later!
Check out BHPian comments for more insights and information.
Source: Read Full Article