Though an amazing machine, I ignored the Yamaha R15 simply because its riding position won't suit my long rides.
BHPian prajwal_ recently shared this with other enthusiasts.
Greetings fellow motorheads,
I'll talk about my purchase decision as well as how my bike has fared in the last six months.
I was a proud owner of a Honda Hornet CB160R which I purchased right after graduation. Rode it for 3 years, and took it everywhere on my road trips… Chennai-Coimbatore, Chennai-Bengaluru.
And one fine day in June 2022, my dad called me and said your brother has an idea, he's planning to buy a used motorcycle to take to his college (Only once a week on Saturday i.e. very low usage). Why don't you give yours to him and we buy a new one for you since you use it a lot. I jumped on it and had lots of ideas, but was quickly shot down by my dad. He said that I can't control how fast you go but what I can still control is the size and type of engine you get for your new bike. He had a strict cap on no bikes above 25hp and 250cc. And post discussion this was the final criteria of my bike search.
> 160cc and < 250cc
Must have dual-channel ABS after a close call once on my Hornet
Must be lightweight (No RE style bikes which are heavier by design)
This was my shortlist
TVS Apache RTR 200 4V
Bajaj Pulsar NS200
Suzuki Gixxer 250 / VStrom 250
Yamaha FZ25
Honda Hornet 2.0
Though an amazing machine, I ignored the R15 simply because the riding position won't suit my long rides. Also ignored all KTM/Husq bikes since I needed a proper two-seater so that my friends/brother/girlfriend can join me for city travel.
Quick short pros and cons of each
Honda Hornet 2.0
Pros
Looks really beautiful
I had a first-hand experience on how smooth and refined Honda engines were
Cons
After riding it around, I didn't feel it was a significant upgrade to my current Hornet, the 20cc bigger engine though felt more powerful still felt familiar and nothing awe-inspiring. So kept it as a backup option.
Suzuki twins
Pros
Engine felt really peppy
Not a fan of Gixxer's looks but V-Strom looked really nice
Cons
V-Strom still got the Gixxer tyres, an all-terrain tyre like on the Impulse would have made it an amazing option
Felt a bit shorter for my height (I am 6'0) and I had to crouch my legs a bit more than usual.
Yamaha FZ25
Cons
Despite all the good points, its looks didn't make me feel like, "Take me home" (Subjective Personal Opinion)
Bajaj Pulsar NS200
Pros
Rev loving engine, felt amazing
Cons
Age old cluster and zero electronic add-ons
For some reason, the showroom model had a White bike with White coloured chassis and White wheels. It looked like a politician version of bikes (I cringed a bit honestly)
TVS Apache RTR 200 4V
Pros
Rev loving engine
Bunch of tech/mech features, TBT Navigation, Emergency Crash Calls, Ride logging, Adjustable Suspension, Adjustable Levers. Being an engineer, I loved that a sub 2 lakh bike had these features
Cons
Looks were average, VStrom had the best looks so far
So I decided and went ahead with RTR200 4V because other than the average looks, there were no major negatives according to me. Me and my dad booked it at SBM TVS in Chennai. They said due to part shortage, color availability is severely hampered. Since I wanted it for my Birthday i.e. July, I told them either Black or Blue is good with me provided it's the first bike you get in the showroom. Though they didn't promote delivery in 2 weeks, they still tried their best. Repeated production delays meant we didn't get the bike for my birthday and on July 20, I got a call saying that a Black colored bike is being allotted to your name and will be shipped from the factory by EOD. Received the bike by July 26 post all registration formalities.
Short-term review
Post delivery, I felt that the front suspension was softer but the rear was really hard. Since they are adjustable, I asked if they can help me with adjusting the rear suspension. But they were clueless at SBM. Typical TVS issue since no other TVS bike except RTR 4V twins and RR310 packs these features and these were low-volume items for them. So I chose to get it done in Bengaluru instead.
I stay in Chennai but work in Bengaluru, Hybrid work meant I spent a few months in either city. For the break-in period, TVS recommends keeping the rpm below 5k. But I was shocked to learn that at that rpm itself, I could do 80. So decided to use the bike itself for travelling to Bangalore as 80 is a decent cruise speed.
The highway ride was smooth but still, the suspension issue was there. I took the bike directly to the service centre as it was time for my first service after 500 kms. The people at Trijal TVS Marathahalli however were familiar with the option and informed me that they'll set it up for me. After the service, the bike felt amazing. The suspension was perfectly configured for me now and small bumps didn't even creep through the body. It was a notch better than Hornet's suspension.
Few observations I noticed after purchasing and living with it for six months.
The bike's steering is so amazingly tuned that even at really high speeds, there was little vibration. Getting a bit technical now, however, I noticed that the bike had really high-frequency vibration on the steering at a higher speed which was captured by my mirrors due to vibrating like a phone but the steering is absolutely stable i.e. You might see a blurred view on the mirror but even if you leave your hands, the steering will not move even a single degree. This is contrary to Hornet. In Hornet, after 75-80, there were significant low-frequency vibrations which meant that if you take your hands off the steering, the entire column including the tyres will start vibrating.
The gearing ratios have been really given significant thought. e.g. For Bumper to Bumper traffic, I could move in 1st gear itself (Urban Mode) as it takes till 25kmph approx (As per gear shift indicators), For light traffic in cities, I could go out in 3rd gear and it goes from 35-55 kmph. 2nd and 4th gear have a shockingly smaller range of speed. Also on highways didn't feel the need for the sixth gear as am a sedate driver and reaching speed limits is a breeze for 5th gear in Sport Mode.
Fuel Economy, during one of my frequent Chennai – Bengaluru trips, I noticed that if you keep it in Urban mode and maintain an average of 80, it'll give you 47 kmpl! That was unexpected for me. The city mileage is however around 35kmpl given the horrible traffic conditions in Bengaluru. I think it's decent.
Put the bike in Sport mode and at your 5th gear, every single person on road will turn around to see where's this amazing sound coming from. Puts up a big smile listening to that amazing exhaust sound.
In Rain mode, only brakes (ABS) are tuned differently. This is significantly evident. Every bike should come with a rain mode. The braking is much more confident in wet conditions and feels safer to ride.
Fuel level indicators are really confusing. The bars don't follow any specific pattern. So it's really difficult to determine how much more range you have.
A weird observation, not sure if it's only me. If you try to change gears before the gear change indicator tells you, gears feel heavy, especially the lower ones but if the indicator is on, it's as smooth as clicking a touch button. E.g. let's say 1st to 2nd change light comes up at 25 kmph. If you try to do it at say 23, it's so difficult. This might be caused due to the Slip Assist Feature for the clutch. I am assuming that the ECU is not expecting a gear change and hence the slip assist is not engaged. If anybody else has some input, please let me know.
TVS Remora stock tyres are not especially grippy on mud roads. MRF Zappers on Hornet are really good for muddy roads. I will consider changing them maybe after their lifetime.
The rear seat though at a higher position, was much more wider and comfortable for a pillion. My friend actually has a really weird explanation for this. Since Indians are healthier in terms of size than the Japanese. The Japanese bikes designed in Japan ignore this fact. Hence almost all Japanese bikes have poor comfort in the rear in comparison to Indian-designed bikes. Though it's statistically true, am not buying that explanation.
So in a nutshell the RTR200 4V gave me an even bigger smile after living with it for six months now, more than I was expecting. For 1.8 lakhs on road, this bike makes the perfect sense as a daily commute bike on urban mode for the weekdays. And come the weekends switch to sport mode and it becomes a different beast. Few snaps of my newfound love below…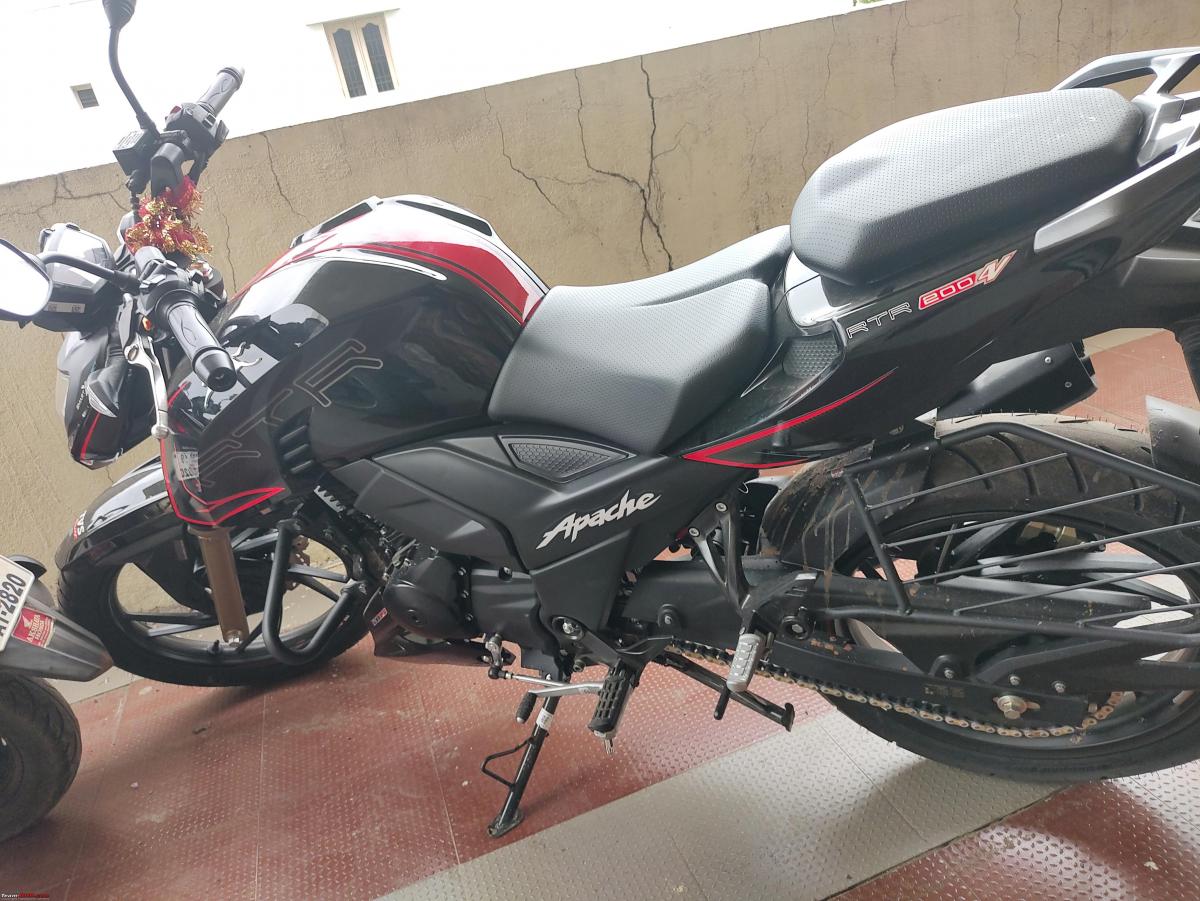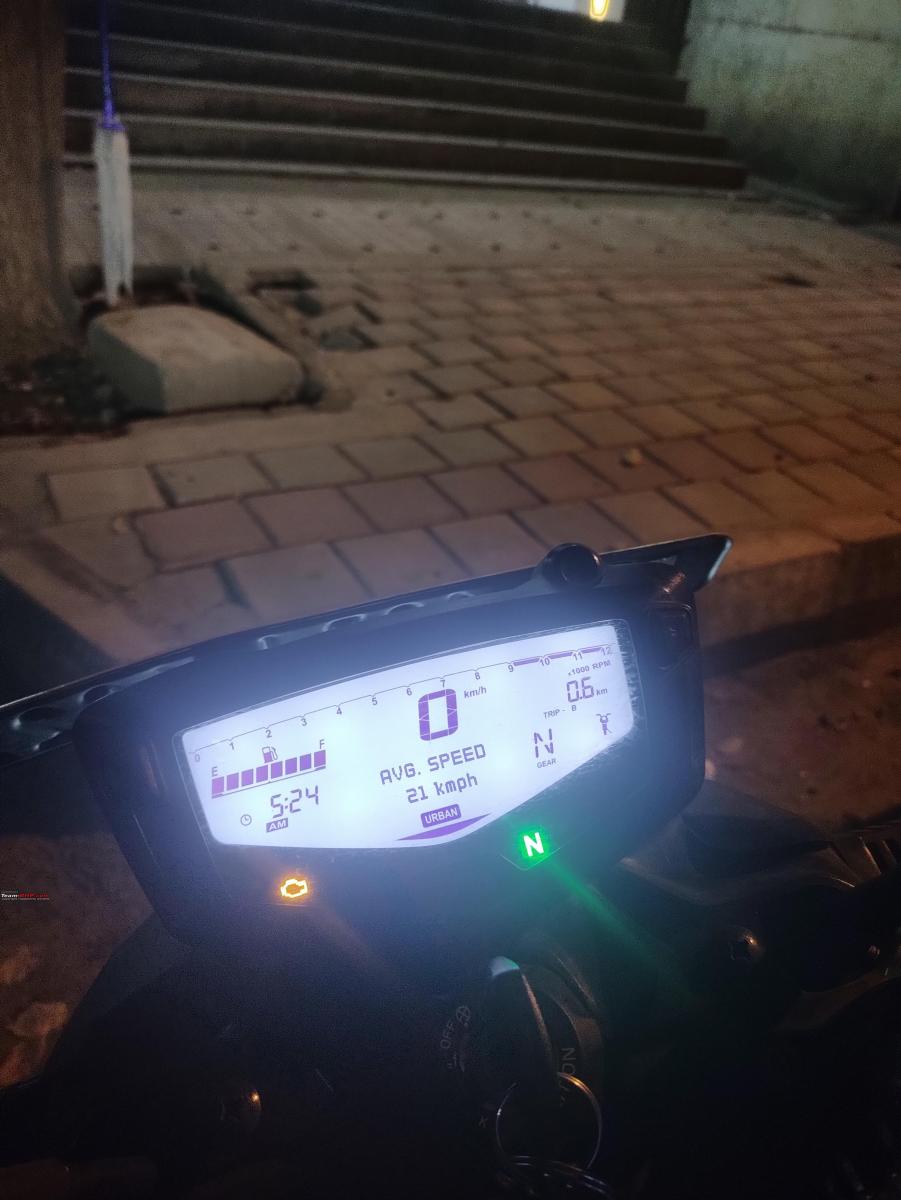 Check out BHPian comments for more insights and information.
Source: Read Full Article