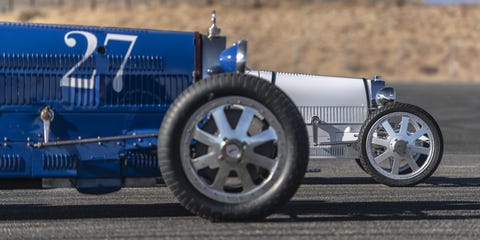 It's almost gift-giving season, and there's nothing more harrowing than trying to find the perfect gift for the car enthusiast on your list. So we have taken the pain out of purchasing with this handy gift guide, all of which can be bought online.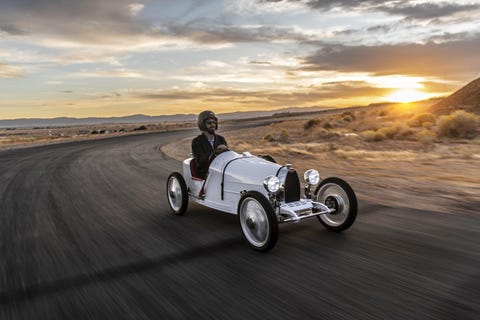 BUY HERE
Back in the '20s, Ettore Bugatti built one of these for his then-four-year-old son Roland. Soon enough, people who had seen it running around the factory loved it. The car was a hit, so much so that Ettore put them into production, building 500 for customers around the world. It was based on his Type 35 Grand Prix car, a vehicle Bugatti said was the winningest race car in history, with more than 2,000 victories.
So to celebrate the company's 110th anniversary, Bugatti decided to make another one. Taken from digitized scans of a real 1924 Type 35 and then shrunk to 75% size, the Bugatti Baby II will fit a real, live adult. I know because I drove one, though not very fast. My drive came in the Rose Bowl Parking Lot and was limited to the car's 42-mph top speed. You can set top speed at as little as 12 mph, up to 24 mph, and as high as my knuckle-blistering 42 mph, all depending on who is behind the wheel. There is also a geo-fence that shuts the car off if your little driver tries to escape.
Many details are the same as the full-sized original, from the solid axles front and rear with leaf springs to the wooden Nardi steering wheel. The car goes 32 miles on a charge, I was told, in case you have a really big estate or a really long driveway. The whole car is exactly nine feet long.
My drive in a big, flat parking lot showed the limits of skinny tires on solid beam axles. I got it to oversteer a couple times coming out of turns, and found the Michelins really did provide some grip. It doesn't handle like a go kart or a miniature Miata, but the look of the thing is so authentic you will forgive its handling deficiencies. Plus, I'm an adult, more or less, so I expect a lot more out of a sports car. I've even driven a real, continuation replica Bugatti Type 35. Your kid won't know the difference. He or she might just think you're the coolest parent in the world.
So pony up the dough. It's made by The Little Car Company outside London. They also make an Aston Martin DB5. Get one of each.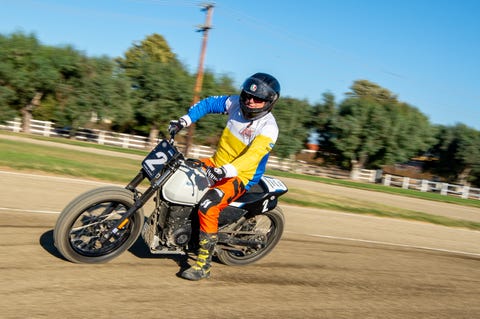 SIGN UP HERE
Have you ever wanted to go around a corner on a motorcycle in the dirt and not wipe out? Even if you don't plan to seek out—and slide—around dirt corners on purpose, knowing how to do it could save your hide some day. Motorcycle maker Royal Enfield enlisted American Flat Track racer Johnny Lewis to add Royal Enfields to his Moto Anatomy School and teach people the fine art of going sideways in the dirt. The classes are held at various tracks around the U.S. and chances are there'll be one near you soon. Or just fly to Florida where Lewis' home track sits. For a mere $250 you'll get 3.5 hours of instruction and riding, with the emphasis on riding.
I took the course at a private flat track in Southern California. We got a 45-minute talk from Lewis, covering just about everything you need to slide sideways successfully without killing yourself (of course, you sign a whole pile of paperwork before you get near a motorcycle). The main thing is seating position and arm position. On our track, as on most, you are going to be turning left, so you position your raging buttocks on the outer right edge of the seat, "Crack on the crack," as Lewis says. You extend your left boot out to act as one of the legs of a triangle, you keep your left arm straight, right elbow high up in the air and voila! You're flat trackin'!
With that tutorial, we went right onto the dirt and, believe it or not, no one in our class messed up! We got several track sessions and it wasn't until the last session that someone, me, fell off. I was trying to catch Lewis and promptly forgot everything I'd just been taught. Whap! I was on my back. But in dirt biking and flat tracking, falling off is not that big a deal. So I got right back up. You will, too. Then go do more laps.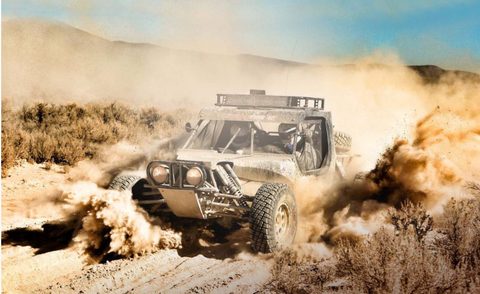 SIGN UP HERE
Zero1 offers side-by-side desert adventures lasting from two hours for $295 for one to two people. It also offers trips up to four days or even longer for much more money. I did a side-by-side tour in a Polaris RZR a couple years ago outside Las Vegas and got to see some interesting scenery as well as having lunch in the Pioneer Saloon out in the desert between Las Vegas and Jean, Nevada. Zero1 also has a fleet of water-cooled, Subaru-flat-four-powered Baja Challenge buggies that take you much farther than a RZR will. The RZRs can go about 100 miles and the buggies can go 200 or more. The buggies I recently saw are based in Goldfield, Nevada, several hours north of Las Vegas at a fine facility called the Zero1 Ranch. The Ranch offers newly built, modern cabins with heating and air conditioning. If you're part of a group, there is a big and rustic dining hall. I've also spent several days out driving the Baja Challenge buggies and can attest to their versatility and ruggedness. Speaking of rugged, the buggies don't have windshields, for instance, and you must learn to love and breathe dust. This desert drivin' ain't for no dilettantes. The only thing I'd recommend is, as with so many adventures like this, if you have a HANS device, wear it. Don't ask me how I know this, ask my thoracic vertebrae. But these guys know a lot about all the trails and dirt roads around the state and will be happy to take you to any or all of them. Check out zero1offroad.com.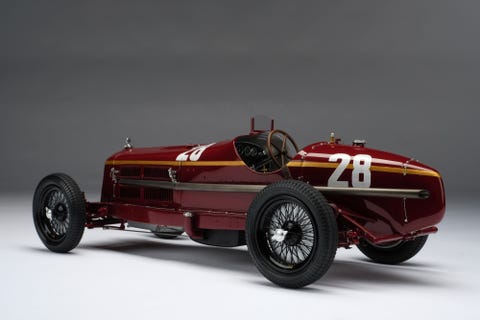 SHOP HERE
You remember Amalgam, don't you? It was on our cover a few years ago. The UK-based maker of exquisite model cars so detailed you'll want to seek out the technology from Honey I've Shrunk The Kids so you can crawl in and drive them. Amalgam Collection sees itself as "…fashioning unrivalled examples of the world's most iconic and luxurious cars at scale." They make F1, Le Mans and sports cars, as well as even a couple airplanes. Scales range down to 1:18. Prices are in the thousands of dollars. The Alfa pictured here is around $15,000. For a lot more they'll make an exact replica of your personal car, right down to the pack of Winstons on the dashboard.
Amalgasm's Black Friday Event runs through Nov. 30 and includes free shipping. See amalgamcollection.com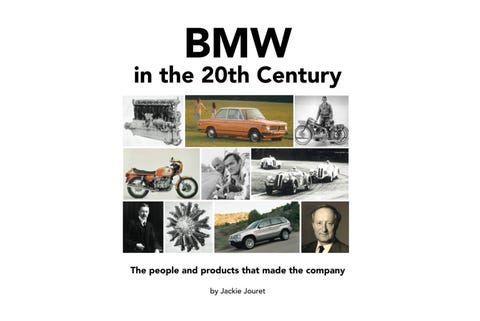 BUY HERE
Jackie Jouret is one of the foremost experts on all things BMW that the world is lucky enough to have. She worked for 17 years as editor of Bimmer magazine, and this is her fifth or sixth book, depending on whether you count the excellent exhibit catalog Genesis: BMW From the Beginning, as a book or not. Let's count it. "Actually, this one is my seventh!" Jouret corrected us. Just look on Amazon for all the rest. This newest book dives deep into the roundel's long and storied history, focusing not just on the products but the people who made them.
BMW started out making airplane engines in WWI, then branched out to motorcycles after the war, then cars. It was doing quite well in racing up till the second world war, when it switched over to military production. Nearly destroyed in WWII, it came back, with cars like the 507, 2002, and M3, as well as motorcycles like the R5 1/3, and the K100."This is the story of BMW in the 20th century, of its rise, fall, and resurrection, punctuated by several near-death experiences in between," Jouret writes. You'll learn about engineers like Max Friz, Alex von Falkenstein, and Burkhard Goschel, as well as designers (yes, Chris Bangle is in there) and executives like Eberhard von Kuenheim and Wolfgang Reitzle. The book is 371 pages long and includes more than 500 photos and illustrations. It's available in color or black and white. You can get it on Amazon.com for $65 (full color, premium paper) or $40 (black and white).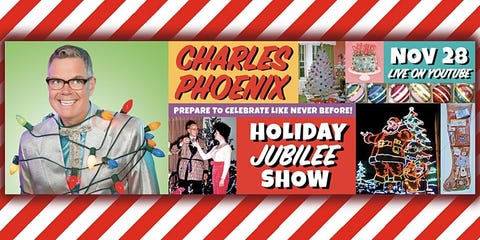 SIGN UP HERE
If you love giant tailfins and big, scary chrome grilles on your mid-century American luxury cars, you will love Charles Phoenix. Phoenix grew up on his dad's used car lot in Ontario, California, a lot overflowing with large, aerodynamically useless tailfins and the chrome behemoths to which they were welded. While this show covers all the kitsch that Phoenix loves, from garish motel signs to drive-through dairies and all the things you grew up with in the 1950s, Phoenix himself just told us that there will be loads of automobilia in the show. If it's not enough, Phoenix's enthusiasm for Americana will get you on the mailing list and you'll know when he does a show solely on American cars from the '50s. I saw one such slide show at the Annenberg Auditorium in Palm Springs and loved it. Chances are you will, too. You can see the Charles Phoenix Joyride on YouTube here https://www.youtube.com/channe…
You can order your tickets to Saturday's show (6:00 pm PST) here. Consider this Holiday Jubilee your entre to the force majeur that is Charles Phoenix.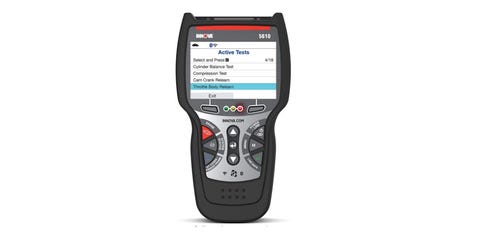 BUY HERE
OK, if you can't afford an Amalgam model or a Baby Bugatti, consider one of these. The INNOVA CarScan 5610 is the Cadillac of code readers. There are much cheaper code readers for sale out there but not all have the long list of functions found on the 5610. Plug it in to any 1996 or newer OBD2 car and you can not only read and clear OBD2 trouble codes but also any number of those so-called "idiot lights" popping up on your dash. It also shows other data available, like transmission coolant temp, tire pressure, and brake pad life, all in your choice of English, Spanish, or French. The extra languages open this up as a gift to a far greater number of your car buddies around the globe. Really helpful before you go into the dealer, where they hit you for hundreds of dollars just to plug in your car using their scanner, which might not be as good as this one. Plus, the 5610 lets you know if you're going to pass smog before you go in for your test. Knowledge is power. There's an app that goes with it called RepairSolutions2, giving you a wide variety of information, from scheduled maintenance to service bulletins. The CarScan is available at most auto parts stores in addition to Amazon.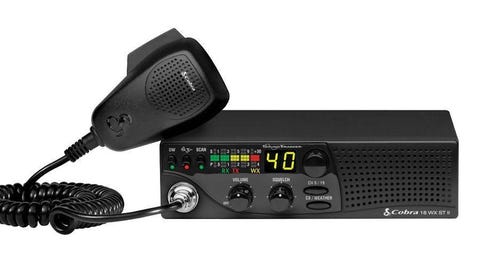 BUY HERE
That's a big 10-4 good buddy, the CB radio is still alive and modulatin'. Despite the rise of cheap cell phones and apps like Waze telling you where all them smokies is at, the humble Citizen's Band radio is still tucked into trucker's rigs across this great nation of ours. Cobra says there are more than 30 million CB radios in use today. They list eight on their consumer website. I got one at last year's Consumer Electronics Show (CES), the "18WXSTII Weatherband and CB Radio." It's not listed on the main site but we found it on a Cobra site for $79.95.
The unit does not arrive with an antenna or a power jack so I got the recommended HG A1500 antenna separately and wired up my own power connector. Ideally you're supposed to wire the CB directly to the car's electrical system, so feel free to do that.
Then, I set out on the open highway. Freedom, baby! But the amount of chatter seemed to have dropped off on the airwaves since the peak of CB modulatin' back in the 1970s. Despite trying to raise conversations with truckers I found they were few and far between, at least on the secondary roads I was road-tripping on. Get on the Interstates and you'll generally find more conversation. Most of it goes to where the radar-totin' smokies lurk, but conversation beyond that ranges far and wide, sometimes hilarious, sometimes ridiculous.
A lot of CBs now come with weather band access, too, so you know when to pull off and bed down for the night. If you tow a race car to race tracks over long distances, drive cross country on sales calls, or just want an interesting tool in your anti-ticket toolbox, the CB can be a helpful addition to your kit.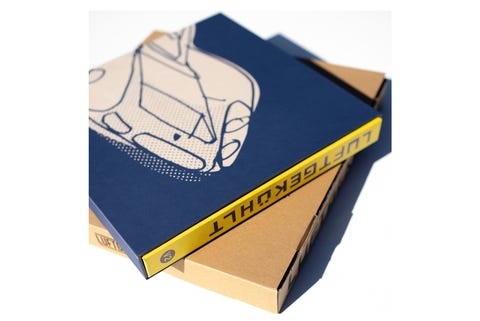 BUY HERE
Is there a cooler car show than Luftgekuhlt? Probably not. And not just because uber-kuhl professional Porsche driver Patrick Long is a co-founder and organizer. The show is curated with better and better examples of Porsches every time it has run, and we've been to almost all of them. Volume 2 covers Lufts 4 through 6, from the Port of L.A. to Ganahl Lumber to the Universal Studio backlot. All of those were kuhl shows, but Universal Studios raised the bar so high it's tough to imagine how they could top it.
The book was designed by Porsche racer Jeff Zwart and Ralph Hermes, whose art direction appears in Motorcyclist and Cycle World, among other pubs. Photography by Larry Chen, Nevin Ponious, Vnice Perraud and more. Forward by Patrick Long himself. All this and free shipping!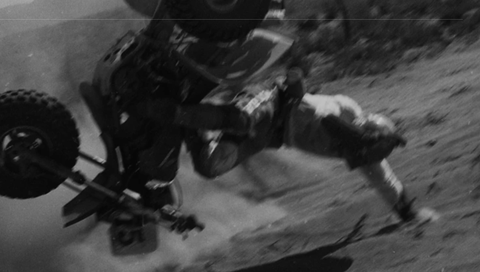 BUY HERE
You may remember Jean Calvin's long-running newspaper Dusty Times, Covering Competition in the Dirt. She founded that in 1983 and it ran for decades, with Jean and her dedicated crew scouring the deserts digging up stories about racing in the dust with no windshield. After Jean passed away in 1997, her husband John continued publishing the newspaper until he, too, went on to that great desert loop in the sky in 2013. His daughter-in-law Patricia Caplan Calvin soldiered on with it for another year after that until circumstances conspired to finish it off. As Patricia said, "Without John and his wonderful art of 'schmoozing,' the paper is just not the same."
This version of Dusty Times is a new and different take with the same title as the original. The new publishers took the middle part of the slogan out and now it reads just, "Covering The Dirt." It is fun, insightful, introspective, and looks beautiful. Sal Fish will tell you about tequila, Jensen Button will show you how he races his spec Trophy Truck, and there's even an off-road 911.
"Dusty Times represents so much more than just the glorious photos and engaging text within," the publishers say. "Like a handshake, it is both greeting and invitation, a summons and acceptance into the free order of the dirt."
The best thing to do is order all three issues. They're $35 each but that's peanuts to a roller like you. Remember, if you don't support cool things like these, they go away.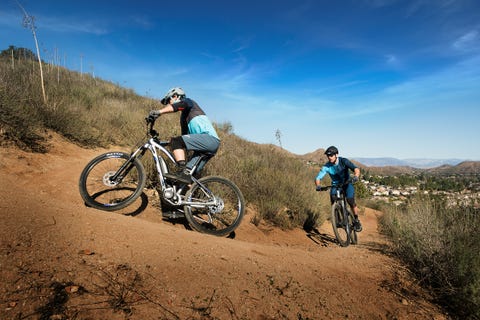 BUY HERE
eBikes greatly expand what you can do on a bicycle. You are no longer limited—as much—by range. I recently got to ride the Yamaha YDX-TORC electric-pedal-assist mountain bike and, let me tell you, it was mighty hard to go back to my regular old pedal-only bicycles. Consider that the Yamaha offers 59 lb-ft of torque, an extraordinary figure for something weighing just 47 pounds. Top speed is limited, like almost all-electric pedal-assist bikes, to 20 mph. The cool thing about this setup is that you can use it to pedal-assist your way from your house out to the hills, ride all day with the motor off, then switch it back on and ride home. Or leave it on the whole time, making getting up those hills a lot easier. Range varies widely depending on how you ride, but I have gotten an extrapolated figure of more than 40 miles range in this setup.
For safety and security the battery unlocks from the frame and you can take it inside to recharge. The price is a bit steep at $3,500 but browsing through Bicycling Magazine or Electric Bike Action Magazine it looks like $3,500 is about what you pay for a cool-looking bike, while $1,000 to $1,500 gets you a cheaper but far dorkier-looking ride.
This bike also comes in three sizes, 15-inch, 17-inch and 19-inch. As with a lot of these things I'd recommend going to a bike store selling them and getting fitted. Right size is important in so many things.
Source: Read Full Article