Never in the past 3.5 months, have I regretted buying an electric vehicle.
BHPian speedmiester recently shared this with other enthusiasts.
10K kms and 3rd service update
Lightfury availed the third free service at 10K kms today. Only replacement in this service is the AC filter. Apart from this, got the Wheel Alignment, Balancing and rotation done. Since I have taken AMC, I didn't have to pay anything for the service. So far the service experience is as per expectations.
Verdict after 10K kms
I am happy to report that the faith I had in EVs is vindicated. Never in the past 3.5 months have I regretted buying an EV. Close to 85% of my drives are on highways and around 7K of these Kms are between Bangalore and Mysore. The past two months have been quite crazy with more than the usual amount of drives. Though largely on familiar routes, there were instances where I had to drive long distances unplanned.
The fast-growing charging infrastructure helped a lot. I keep track of fast chargers on my primary routes and have memorized the location, availability, and reliability of most of them. This reduces range anxiety by a large margin.
Positives
Quiet and stress-free driving experience.
No compromise on safety features.
Power available with a slight dab of throttle, overtaking on undivided roads is a breeze and quite fun on the highways.
Negligible running and maintenance costs.
Can drive 400Kms+ on highways at avg speeds of 55-60Kms.
Negatives
Soft suspension takes some edge off the fun at higher speeds.
Still haven't been to find the perfect seating position, my earlier Ecosport was bang on in terms of seating comfort.
Have scrapped a couple of times on large speed breakers.
Illumination from the headlamps.
Few Stats from the initial ownership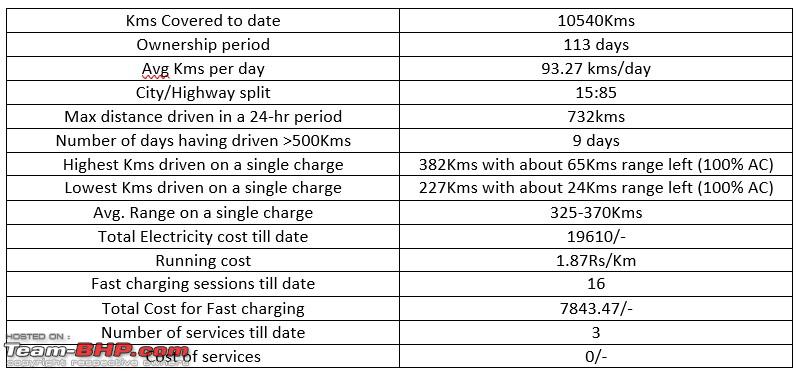 Check out BHPian comments for more insights and information.
Source: Read Full Article