I was a whole 2.5 km/h faster on the same route in spite of heavy winds & my 2-month-long break from cycling long distances.
BHPian Aditya94 recently shared this with other enthusiasts.
Background
After more than a decade of hiatus from anything related to two wheels, in 2021 I decided that I should get back to biking. I immediately started to research bicycles within the range of 20k. I wanted it to be a simple Hybrid bicycle. As a kid, I thought that MTBs were cool (which they really are even now), but not practical for a city dweller whose nearest mountain is at least a hundred kilometers away. Even those mountains have well-paved motorable roads and MTB trails are something unheard of in our country, at least down south.
So I did not want the weight or complexity of a full-suspension bicycle nor did I want a suspension fork in the front. Naturally, my selection pool was limited to Hybrid bikes and the obvious brand which stood out was our very own homegrown Montra. The two models they offered were Downtown and Trance Pro. Downtown was the only bike which was offered in size L and hence I went ahead to purchase it.
2k kms and a year later, there were some prominent issues which I had.
Squeaky brakes
Horrendous gear shifting
Backache, elbow ache and wrist pain
I found the reason for them too.
Initially, the bicycle technician attributed the sound to debris in the disc rotor/pads and advised me to use soap water to clean it. Multiple attempts to clean them turned futile. Then I purchased a can of disc cleaner and that too was of no use. Finally, I realized that the brakes were misaligned. Took them to the service guy and got them aligned. After 20kms, they squeaked again. I got them aligned 3 times and they'd eventually squeak by the time I got back home. Frustrated with this exercise, I gave up and learned to live with the sound.
The Downtown came with Shimano Tourney shifters. The lowest in the rung and they are namesakes. The rear derailleur would always skip gears and the front derailleur requires the strength of Arnold Schwarzenegger in his prime coupled with the luck of MSD winning trophies to operate. I was so annoyed that I always used to keep the front gear in 3 and just played with the rear derailleur. Often shifting between 4 to 7 in the rear. Was interested in upgrading them to Altus, but was advised against it as it wasn't worth the money.
The backache and wrist pain were real issues. Although the seat was set to my height, inevitably I develop a mild backache if the ride is more than 40kms. The wrist and elbow pain was caused due to the steel fork and bad roads in my city and I couldn't have done anything for that but maybe wear a pair of gloves with cushioning to reduce the vibrations, but not eliminate it. The vibrations would eventually seep in even with gloves (that's what I heard from fellow Downtown riders)
These issues started to slowly take the joy of cycling from me and that's when I decided that I very badly need an upgrade as I regularly use one.
The hunt begins
My requirements for my next cycle were:
Comfort
Speed
Good driveability
No noises
Versatile
Good Service Network
So naturally when the next round of cycling hunting started, I had the following choices:
A premium Hybrid bike (the likes of Trek / Cannondale)
A cheap road bike
A gravel bike (if it fits my budget)
Very soon the Hybrids and RBs were rejected as they did not fit my requirements. I started researching more on Gravel bikes and zeroed in on the following:
Polygon Bend R2
Marin Four Corners
Marin Gestalt
Marin Nicasio
Triban RC500 (with wider tyres)
The Triban RC500 was a bang for the buck, value-for-money product. Comes with an aluminium frame, carbon fork, a full Shimano sora 2×9 groupset and mechanical disc brakes. The only drawback was it comes with a 28c tyre, which is much narrower than the 35c which I am used to in my Hybrid bike. However, the frame could accept tyre clearance upto 36c (officially as per the Decathlon website) and people have gone upto 40c (with no mudguards). The best part, it cost only 70k. Sora was unheard at this price range. The frame too is no slouch. It was the same frame which is used in the much more expensive RC520 (Rs.1L).
I had decided to go for the RC500 after many deliberations and it seemed the most reasonable choice for the following reasons.
Value for money
Service of Decathlon
Versatile bike
I then went to Decathlon, Anna Salai, Chennai to lay my hands on one. However, as my luck may have it, they did not have a Size L and all they had were two M sized in their stock. This 182cm frame will not fit an M, at least not without body aches and injuries and I'm not being tempted by that Sora groupset. The next stock was due to arrive in early 2023 and they couldn't give me a definite timeline.
However, I did not lose hope. The folks in Decathlon Anna Salai, Chennai were very very helpful. Cheers to Mr. Mukesh and Mr. Lokajith. They could have simply told me that they did not have stock and left it at that. They told me that there were 2Ls available in Kolkata and one in Secunderabad. They also suggested that I could order one from Kolkata, pay for the courier charge and get it assembled in Chennai. I then asked what about Secunderabad. They said that there are possibilities that a single piece stock could be a display piece and they wouldn't suggest I go for it.
I made a call to Newtown Decathlon, Kolkata. Spoke to a person who then told me that he would speak to his Duty Manager and revert immediately. I waited 45 mins and there was no call. The folks in Chennai Decathlon suggested that it could be risky buying it like this because there could be possibilities that the cycle may be damaged in transit as it would have to be sent through regular courier, unlike when you purchase from the Decathlon website wherein the products will be dispatched directly through their own means directly from Decathlon warehouse. Plus in case of any issues, fixing responsibility would be difficult since the courier is not through official Decathlon.
I was contemplating on dropping the plan and maybe looking at the other options which cost a bit more, were specced less and might not have a good service experience like Decathlon.
Then I was looking at their bikes and I saw the Triban RC120 Gravel. I asked the people there if they had an L-sized test bike and if they had stocks for the L Frame. They said that only an M-sized frame was available for a test ride however they had an L frame in stock. I immediately requested a test ride.
Initial impressions
The bike was really light
Gear shifting was considerably smooth as it was a 1x drivetrain
The front crank was 38T and it was inadequate for good speeds – I would have to upgrade it to a 42T if I want to ride fast
I felt that the brake lever had a lot of travel, which I felt might be an issue
The bike was really nimble, especially when riding in the hoods as the front was much lighter than my existing one.
The Handlebar with 16° Flair was comfortable
The bar tape did not look like it'll last long
The bell it came with was namesake. You could hear a mosquito coming half a mile away, but cannot hear this bell a couple of meters away!
I then had a detailed discussion with Mr.Lokajith, who owns an RC100. Phase 2 of Metro Rail construction is underway in my city and I am bang in the center of the city and all my places of interest have bad roads as a reason of Metro/ Electricity/ Stormwater drain works. It is expected to remain bad at least for the next 4 years.
The first thing I realized was that 28c tires are prone to pinch punctures as they are road-specific tyres. The rims on 28c tyres are 17c, which might affect the chances of much wider tyres. I was convinced that the RC120 Gravel was a much more practical choice as I don't need to do any upgrades to it, except maybe go for a 42T crank down the lane if I felt the bike was slow.
I went ahead and purchased the bike. Got a couple of bottle holders, a stand and bicycle insurance. Rode it back home for 8kms wearing denims and I couldn't really comment on how the bike was unless I was in much more comfortable clothing. However, the one observation which I could make in that short ride back home was that the carbon fork means business. The ride was much more comfortable because of it.
The first thing I did after I came back home was to tape the frame where the chain usually hits the frame. As suspected, I did have a couple of minor chips there. Not big damage. I taped it with regular cellophane tape as an interim solution until I purchased a quality chain guard for the frame.
The very next day was a Sunday and I wanted to go for my usual Sunday ride which would be around 70~ kms. The first thing I wanted to do was to take my bike to my nearby Ganesh temple to get a small pooja done. We need the grace and blessings of the gods to be safe on Indian roads and bicycles being the lowest in the food chain on Indian roads require special protection from lord Ganesha.
I started out riding by 8 am with my friend (who by the way rides an MTB because he wants to burn calories). Thankfully the weather was pleasant. Hit Marina- Adyar – Thiruvanmayur – Sholinganallur – Navalur – Spicot and took a Halt in Geetham restaurant (erstwhile Sangeetha) in Navalur. On the return, we took a right turn at the Sholinganallur signal, hit the ECR and took a brunch halt in Mylapore, before we returned home. All in all, it was around 70 kilometers.
This is the usual route we take when we ride long and hence I was well aware of my performance in this route. On this specific day, there was a considerable amount of cross-wind on my onward journey and a lot of headwinds as I returned. I personally felt that I was slower on my gravel bike when compared to my Hybrid bike. I had the habit of tracking my sessions on strava.
Man-oh-Man! I was surprised to see the stats. I was a whole 2.5kmph faster on the same route in spite of heavy winds and my 2-month-long break from cycling long distances. I understood that it was because of how comfortable the bike was, I was unable to feel the speeds I was effortlessly doing. The Tyres, fork and frame do a wonderful job to flat out all the undulations on the road.
Observations after riding 500+ km
Brakes are really good
Much more nimble than my hybrid bike
Overall comfortable bike
Tyres have grip on loose surfaces and are confidence inspiring
38T Crank is insufficient for flat / downhill riding
Gear shifting is a bit slow when upshifting in the 9th gear. Downshifting is quick, whereas upshifts take a solid second when it is from the 9th to 10th gear. – All other upshifts are as quick as the downshifts.
The tyres have presta valves and took me some time to figure out how to fill air.
There are vibrations when the tyre is inflated at 65psi when riding over the rough stuff and a good pair of cycling gloves solved the issue (Van Rysel RoadR 900)
What I like about the Bike
Tubeless ready rims and tyres
Carbon Fork
Reasonably good brakes
38c Hutchinson Tyres
Reliable 1x drivetrain
Upgradable
Light
A warm gesture from Decathlon as they delivered the cycle with a ribbon
The Cycle after a rainy drive
Note the wide gearing ratio and the clutch in the derailleur
The shifter on the top is for upshifts and the bottom is for the downshifts
The fork is made of carbon and comes with mounting points on either side. The Hutchinson Override comes with tan walls. A good contrast colour with the black tyres.
38C tyres with a slick centre for faster straights and mildly knobbed sides for cornering grip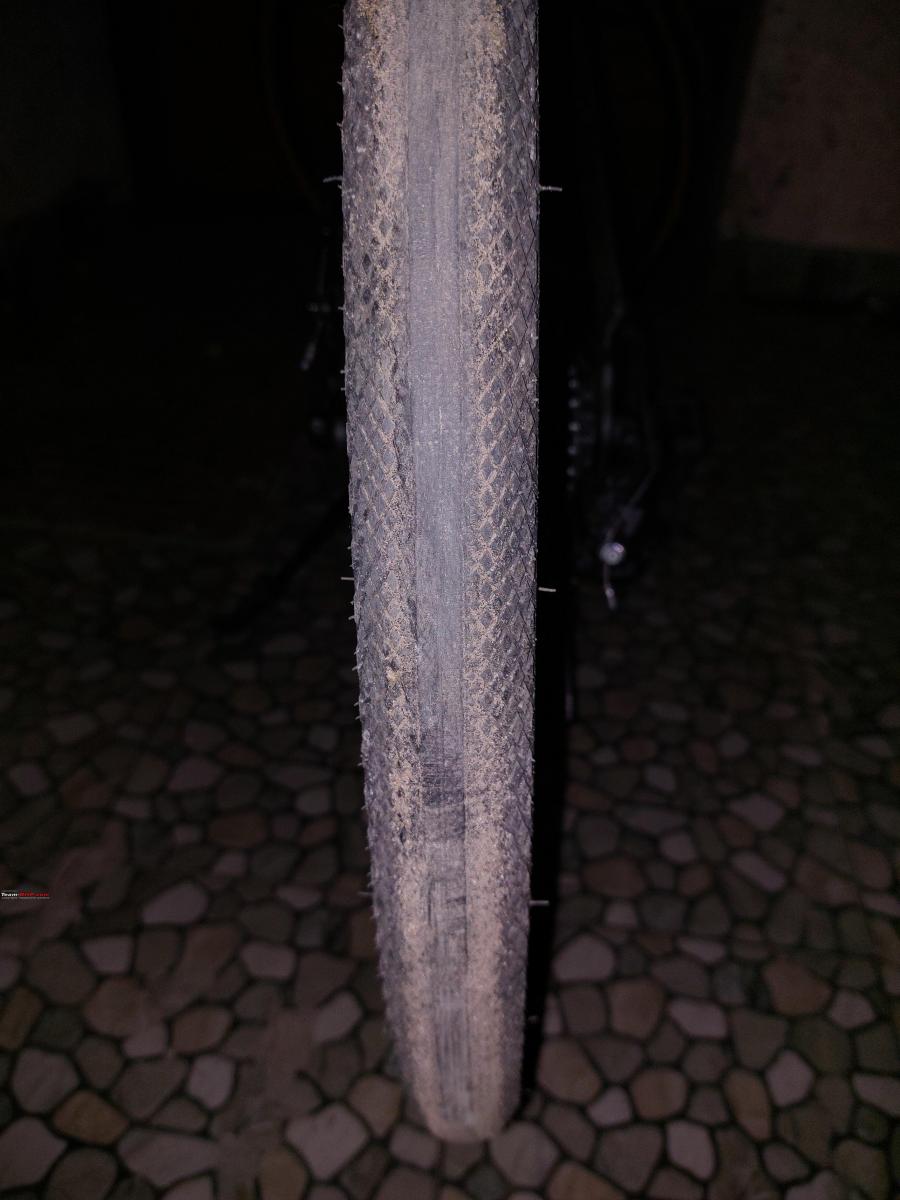 The front disc along with a mounting point on the fork
The front and rear come with 160mm mechanical discs. Plenty enough for regular rides
Am I fully satisfied?
It would be an understatement to say that I am merely satisfied. It is a gem of a machine, especially at this price point. It has its own drawbacks, but they are overshadowed by the fun factor it offers.
I effortlessly covered 500+ kms in a period of 3 weeks and that too with my travel obligations due to work. It munches miles for breakfast, lunch and dinner. All I need is a pair of gloves, bibs and hydration to keep me happy on the saddle. I would recommend it 11/10 for those who have outgrown a hybrid bike and are considering a dropbar. A gravel bike is a more sane alternative compared to an outright road bike considering the road conditions our cities have to offer and not having the predicament of damaging the rims.
Check out BHPian comments for more insights and information.
Source: Read Full Article