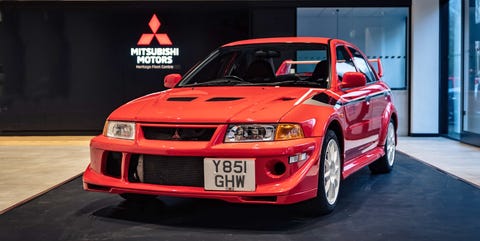 Mitsubishi is selling off its Heritage fleet in the UK this month, offering collectors the chance to pick up some true rarities without even traveling to Japan. The automaker has contracted specialist online platform Auto Auction to offer up over a dozen of its vehicles, in an online auction format concluding the end of April. This means that bidders will have plenty of time to put in their bids, and all are offered at no reserve.
The vehicles themselves are all Mitsubishis that were offered in the UK or were brought in by Mitsubishi itself for company purposes, ranging from a 1974 Colt Lancer 1.4 to a 2015 Outlander PHEV. Some had been kept by the automaker as demo cars for its dealer network, while others had been bought from private owners. Overall, the Heritage fleet is small but very eclectic, leaning toward the automaker's rally-flavored offerings, and should give collectors of Japanese cars (and even collectors of Jeeps) from all over the world something get excited about.
Here are five cars from the auction to watch: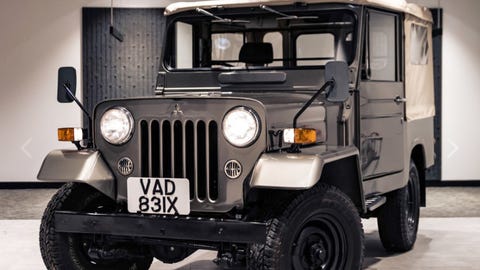 Speaking of Jeeps, the automaker will offer a licensed version of a post-war Willys that was produced by Mitsubishi through the 1990s. This particular example is right-hand drive, of course, and is one of some 200,000 that were built over a period of 45 years in Japan, with the last ones leaving the factory in 1998. That's right: Mitsubishi had been making the 1950s-era Jeep until a short while ago. And this is one of them.
"This particular 1981 built example was one of eight imported by the Colt Car Company to assess its viability and for general use by the business," the auction house notes. "However, having fallen into disuse during the 90s, it was recommissioned in the 00s, with over 5,000 man hours invested in its nut-and-bolt restoration. In recent years it has appeared in Auto Express."
This would be a vehicle equally welcome at Jeep gatherings and classic JDM meets alike, and we can't imagine that parts would be tough to source. With over 200,000 produced over 45 years, it may not be the rarest vehicle in the collection, but it's definitely a curious piece of Japanese automotive history.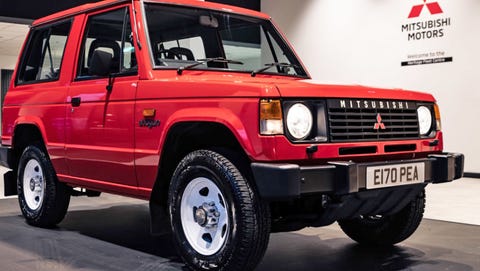 Another classic Mitsubishi that has already invited plenty of bids is a 1987 Mitsubishi Shogun Mk1 SWB. A tidy example that had averaged only about 3,000 miles per year in its time in the UK, this Shogun is optioned with a 2.6-liter gasoline engine. The model itself helped spark Mitsubishi's SUV dominance in Europe in the 1980s, when small two-doors such as this one began to win over buyers.
"Promoted and priced between the upmarket Range Rover and the comparatively utilitarian Land Rover Defender, the Shogun was one of the vehicles that kick-started the popularization of SUVs as aspirational and desirable vehicles," the auction house notes.
The Shogun, showing 100,052 miles on the clock, will be offered with an extensive history file and even a Mitsubishi Product Information video tape. We expect it to being some serious pound sterling given the fact that these are now collectibles and are not that easily found in clean condition.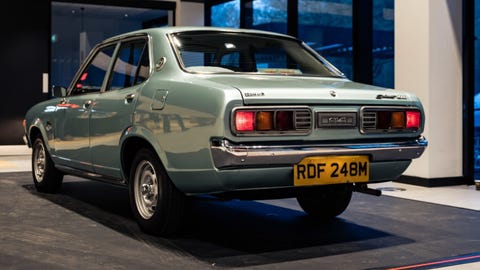 A classic Mitsubishi that's also drawing interest from bidders is a 1974 Colt Galant, which was the automaker's midsize offering in the UK at the time, positioned above the smaller Colt. This particular example is a Japanese-market car that was imported to the UK as a dealer demo, optioned with a 1,995-cc Astron engine paired with a five-speed manual gearbox.
This example now shows 60,963 miles and had been owned by Mitsubishi UK until 1988, when it was sold to a company employee. The car went back to Mitsubishi UK in 1994 and has been given a light cosmetic restoration. Needless to say, cars with this pedigree and mileage are not easy to find outside of Japan, so this Galant should attract a good deal of attention. The car's heritage fleet history should inspire some serious bidding, even if it doesn't pose as much performance potential as some other offerings from the heritage collection.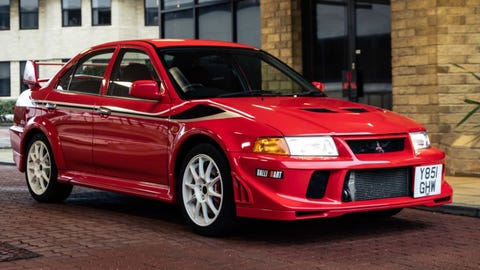 Speaking of performance potential, one of the cars that have invited the most bidding thus far has been the 2001 Lancer Evolution VI Tommi Makinen Edition, offered in the UK in tiny numbers to celebrate rally driver's fourth world rally championship title, captured for Mitsubishi. Just 250 were offered in the UK in the year 2000 and all quickly found buyers at the time.
"Easily the most famous car on the Mitsubishi heritage fleet, Y851GHW, has graced the cover, and pages, of Evo magazine on several occasions, as well as appearing in Car Magazine, Top Gear magazine, Modern Classics and Autocar, to name but a few," the auction house advises. "The car is offered with a spare bonnet, a valid MOT, all relevant paperwork and historical documents and magazines featuring the car."
On top of everything, this particular car is even signed by Tommi Makinen himself. The Evo now shows just over 10,000 miles on the clock, and has just received a gearbox refurbishment as preventative maintenance given its low mileage over the past two decades. The bidding is already intense.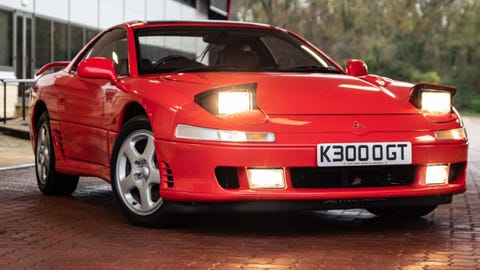 One of the youngtimer classics in the auction is a 1992 3000GT, which helped popularize Mitsubishi's sports car range in the 1990s, sold as the Dodge Stealth stateside. Powered by a 3.0-liter twin-turbocharged V6, the 3000GT offered such advanced features as an electronically controlled suspension, front and rear active spoilers, and four-wheel steering, in addition to four-wheel drive. Since this example is an early one, it has pop-up headlights.
"Registered in the UK in 1992 it was owned by a doctor enthusiast who purchased the special registration number for it, K300 OGT, and stored it in a heated garage for most of its life," the auction house notes. "It was offered directly to Colt Cars in 2017 in order to ensure its preservation and apart from some light mechanical preventative maintenance it needed no restoration or recommissioning work whatsoever."
As with a a number of other cars offered from the heritage collection, this example has appeared in a number of UK car magazines and will be offered with its license plate K300 OGT. With 34,147 miles on the clock, it appears ready to be enjoyed without guilt of diluting delivery miles, so it should fetch top money.
Visit the auction website to view the full list of lots.
Source: Read Full Article