Ever since I got my motorcycle, I had the itch to ride her to my hometown & in the process explore & experience different parts of our country.
BHPian CBryder recently shared this with other enthusiasts.
The best part of getting lost is finding yourself.
Hello BHPians!
A bit about myself – I am a Software Developer in my mid-20s hailing from Assam. I moved to Bangalore last year and bought my first bike – Honda H'ness CB 350. She is about to turn a year old and is absolutely amazing! She helps me commute through BLR and I have also done a lot of tours with her – Ooty, Yercaud, Mangalore and a solo ride to Hyderabad.
I will discuss the above tours in a future post maybe! Let's get into our agenda for this post, shall we?
Prelude
Ever since I got my bike, I had the itch to ride her to my hometown, and in the process, explore and experience the different parts of our country. I started planning this ride back in early 2022. I have some friends from Orissa who regularly ride between BLR-Bhubaneswar, so I had a fair bit of idea about the route to take, and what to expect on the road. The organization I work for is very flexible about WFO/WFH, so I got the approval to do WFH till December with my manager and the plan was on!
Day 0
I had prepared the Google Maps route back in June/July after discussing it with my friends from Orissa. The route I had planned was – Bangalore-Vijayawada-Brahmapur(Orissa)-Kolkata-Siliguri-Guwahati. The idea was to ride only during the daytime. I created a list of stops I planned to take and another list with all the Honda Bigwing service centers on the route – just in case things went south. After some mental preparation, I got up one Saturday morning and decided I am going to do it!
As per my plan, I wanted to reach Kolkata in 3/4 days, take rest for a week and then continue on to Guwahati. The first thing I did was to check weather conditions on the route – they looked favorable with about a 30-40% probability of rains in Orissa – all good! I applied for leave for the upcoming week (wanted to keep some days as a buffer), got the bike serviced from Bigwing Ulsoor, packed my saddle bags, booked hotels… and just could not sleep. With mixed feelings of excitement and some amount of nervousness, I set out from Bangalore at 5:30 am.
Day 1: Bangalore-Vijayawada: 653kms
After speaking with one of my friends from Orissa – I decided to take the following route till Bhubaneshwar – Bangalore-Tirupati-Naidupeta (connect to NH 16 here) – Vijayawada.
I planned to take a break of 10mins every 1 hr and drink 1 litre of water every hour to prevent dehydration.
Mulbagal Plain Dosa
First stop of the day was at 7 am at Mulbagal Dose, easily the best dose/dosa I have ever had! The rest of the route till Tirupati was smooth, with the Chitoor – Tirupati expressway being the highlight. The stretch from Tirupati-Naidupeta was under construction and in absolute shambles. I was struggling to maintain 50-60kmph with multiple potholes, diversions and heavy vehicular traffic. Hope this stretch gets completed soon.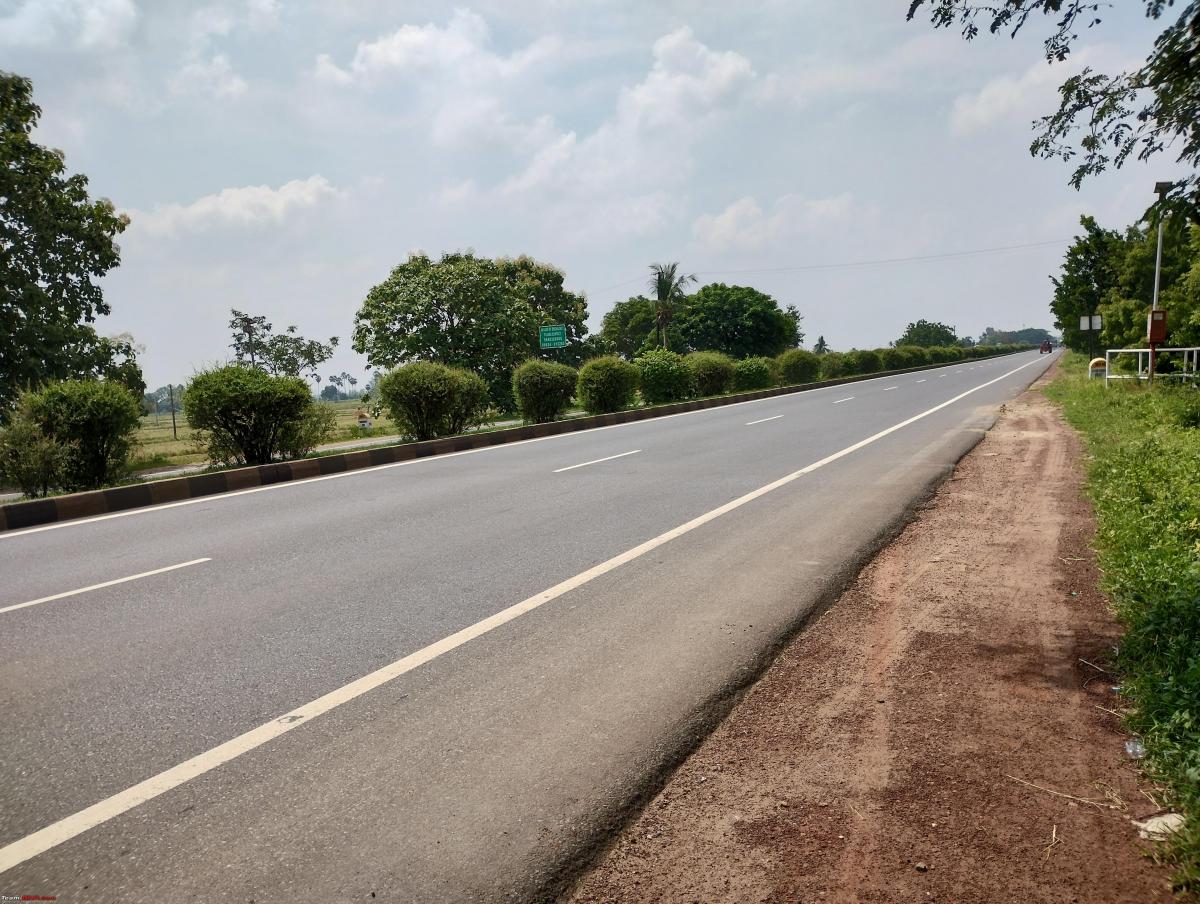 I felt a good amount of relief when I connected with NH 16 at Naidupeta. Felt a bit surreal when I saw the signboards mentioning the distances to Vijayawada, Bhubaneshwar, Kolkata. This route connects such a huge part of our country. The rest of the ride till Vijayawada went smoothly. The highway is in good condition. I reached my hotel in Vijayawada by 5:30pm. I had booked hotels which had covered parking within their premises.
My Highness was my only company on this ride, and I did not want anything to happen to her! I parked the bike, checked in, took a shower and napped for a couple of hours. I went out for a short stroll in the evening, there was nothing much to see in the area I was in. Still feeling a tinge of nervousness, I decided to get back into my room and mentally prepare for the next day. I ordered a veg Andhra thali for dinner – which came with obscene amounts of rice and lots of delicious curries. Tummy filled, I adjusted the AC and went to sleep.
Day 2: Vijayawada-Brahmapur(Orissa): 606kms
I woke up at 5am, freshened up, packed the saddlebags and headed out. As a side note – Loading and unloading saddle bags, putting on rain covers on the bags is such a chore and easily the worst aspect of motorcycle touring I feel! It was a nice pleasant morning, and I was back on NH 16 in no time.
I had read about potential traffic snarls and bad road conditions at Rajahmahendravaram and Vishakapatnam, and so wanted to cross them as early as possible. NH 16 was mostly smooth with a few diversions outside Vijayawada. I reached Kovvuru Toll Plaza at around 8:30am. Although traffic was thin, the stretch till we reach the Godavari bridge was in shambles with multiple craters. Had to take a lot of precautions and negotiate this stretch till I found smooth patches again. I took a stop at Cafe Coffee Day near Tuni.
My friend from Orissa as well as Google Maps had suggested me not to follow NH 16 into Vishakapatnam city, and so that's what I did. Maps diverted me onto a state highway near Anakapalle. The less I speak about this route the better. Had to face terrible traffic with so many heavy vehicles while climbing a narrow Rail overbridge – easily the scariest experience of my trip.
After this stretch, Google took me on an adventure- it connected me with an under-construction expressway which was partially open. Till date I have no idea about the areas I passed through, I just followed the maps till 80-90kms. Thankfully it did eventually lead me back to NH 16. The rest of the ride on this day was absolutely blissful.
The weather was nice, the roads were smooth and I enjoyed the greenery and the vast farmlands of Andhra Pradesh.
I took a break at another CCD near the Vizianagaram junction. CCDs are the best rest stops along this route I feel – Air conditioned, comfortable seating, clean washrooms and free WiFi!
NH 16 continued to be butter smooth and I kept bypassing so many towns and cities.
Crossing Icchapuram and entering into Orissa was a sight to behold as the landscape was so green. I was warned about strict speed limit checks in Orissa, so slowed down a bit and maintained the speed limits mentioned on the signs. I hit Brahmapur by 5:30pm.
Entering the town, I had a warm feeling. The atmosphere and hustle-bustle of this town gave me good vibes. I found my hotel, Hotel HCB, managed to squeeze Her Highness into the tight two-wheeler parking space, checked in, showered and crashed onto the bed. It was a typical old-styled budget hotel with decent facilities. The feeling of nervousness I had began to fade away and I started to feel excited about reaching Kolkata the next day. But first I wanted to try out some authentic Oriya cuisine. My friend gave me the names of a few restaurants nearby. Hotel Khanti Odia was just 500ms away from my hotel, so I decided to take a walk, absorbing the evening vibes of the town. I reached the restaurant and it was almost empty – probably because it was just 7:30pm. I ordered a non-veg Odiya thali for INR 250.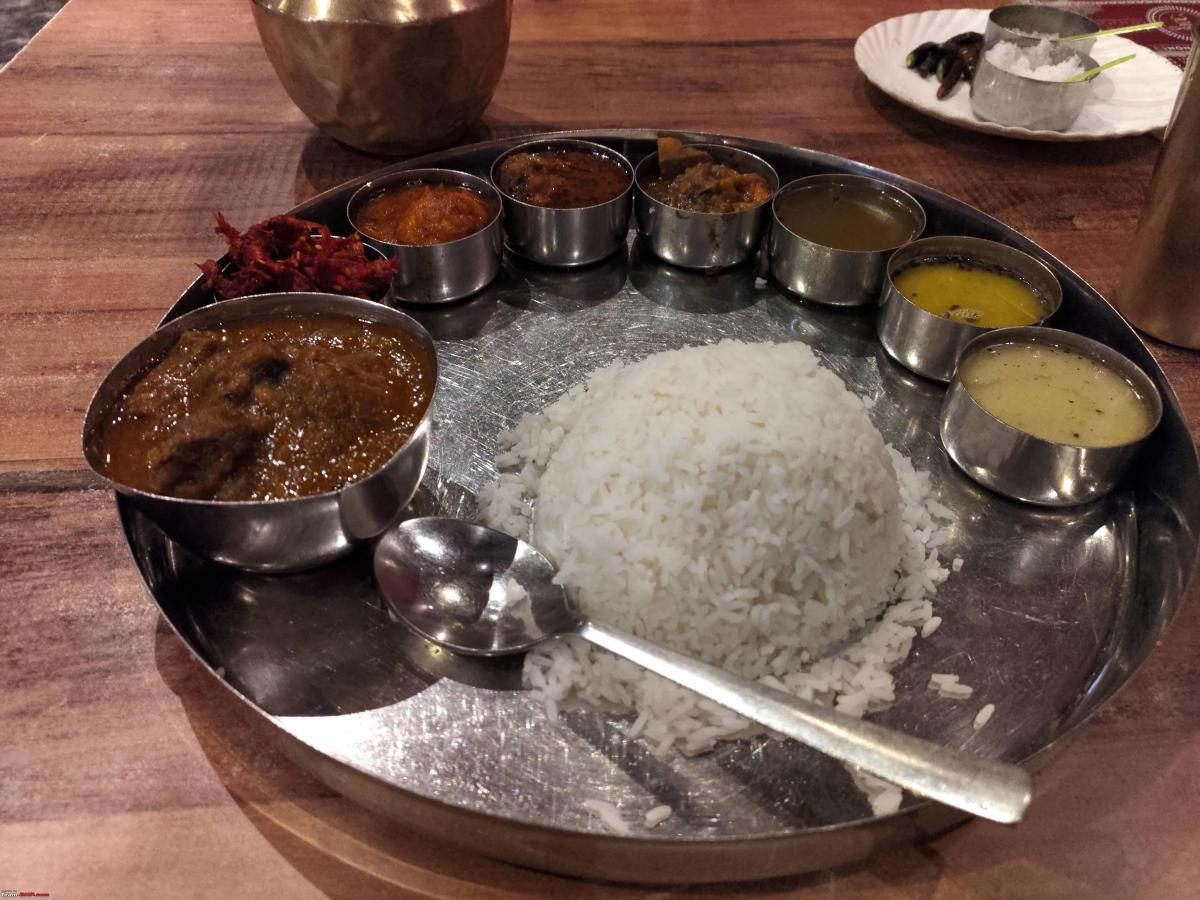 Khanti Odia non-veg thali
It was a lip-smacking experience! Prawns, sutki (dried) fish, Chicken curry, Egg curry, etc etc. After the sumptuous dinner, I decided to try out the famous Chenna Poda at a nearby sweet shop. I loved the taste – I will describe it as a cross between paneer and cheesecake. Post this, I headed back to my hotel room and took a rest. However, I could not fall asleep. Maybe it was the caffeine in my blood from having had two cold coffees that day or the thrill and sense of safety of reaching a state where I could speak in my mother tongue!
Day 3: Brahmapur-Kolkata: 618kms
I finally got some sleep at 3:30am, woke up at 5:30am and hit the road again. Side note – I had a helmet-mounted DJI Action 2 on this trip, but was so far too nervous to think about recording anything! I finally started recording clips after leaving Brahmapur. I hit Chilika Lake in no time. Seeing it reflect the morning sunlight from a distance I wanted to stop at a good vantage point and take some pictures, but just could not find a decent spot on the highway. I did catch a glimpse of a train passing through the lake and it tickled the rail enthusiast in me. Post this stretch there are a lot of constructions and diversions. In one particular stretch, there was a sharp diversion and an abrupt change in the road level, where my rear tyre hit a long piece of metal and skidded a bit. I was scared that my tyre would burst. Stopped and inspected it, and thankfully the tyre was fine.
The road surface turned nice once I reached Bhubaneshwar city limits. It was around 9am, so there was a bit of traffic, with people commuting to their workplaces. I spotted a lot of small food trucks and huts on this stretch with people gathered around them. I hadn't had breakfast yet, so decided to stop at one of them opposite the Kawasaki showroom. The outlet had Idly, Dahi Vada and Dosa. I opted for the Dahi Vada as my friend had recommended it.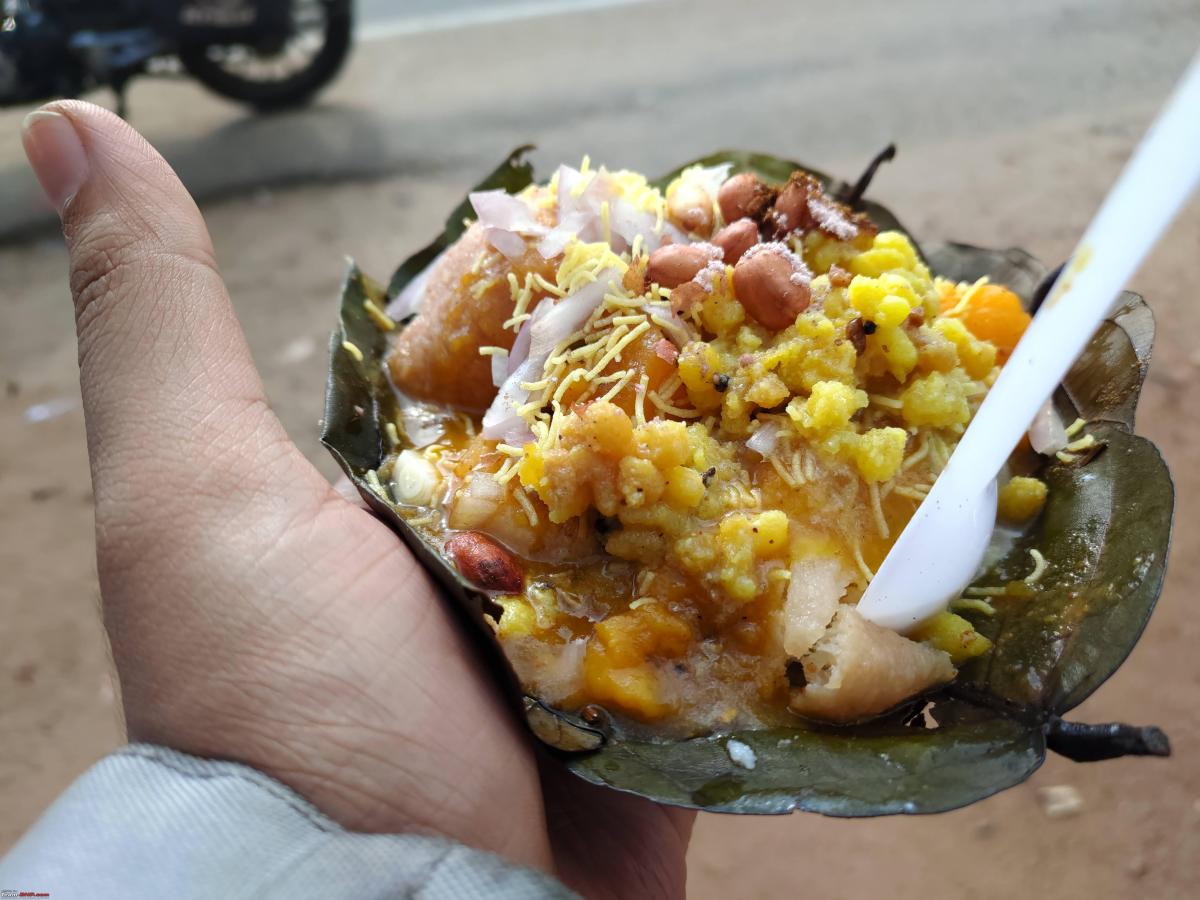 Dahi Vada @ Bhubaneshwar
It was very nicely prepared and served in a bowl made from a leaf. The meal was very filling in itself, and to finish off they fill your bowl with "Ghola Dahi" (buttermilk). The best part is, this meal costs only INR 25! Having recharged myself, I hit the highway again, faced some traffic till Cuttack, and after that, it was smooth sailing all the way till Balasore. Crossed some beautiful green stretches of highway. After Balasore, the NH 16 becomes an eyesore! Most of this stretch is a broken two-laned highway filled with potholes and random speed breakers. I was sure that my bike's rims would give up on this stretch. Also, there were a lot of wrong-side driving idiots and cattle on the roads. The road surface improved a bit when I entered West Bengal at around 2:30pm through Jaleshwar.
Just after entering West Bengal
Had a bottle of water and got to speak in Bengali for the first time on this trip! The stretch from Jaleshwar till Kharagpur junction was also under construction but the overall road surface was decent. Faced moderate truck traffic on the Dankuni Expressway and then heavy evening traffic while entering Vidyasagar Setu. It also rained a bit on and off on this stretch so had to put on my rain jacket. I reached my destination for the day – a cousin's place at Naktala which served me hot tea and snacks. The Odo read 1883 km.
I spent the next 3 days (Wednesday-Friday) in Kolkata. Washed my riding jacket, clothes and rain gear on Wednesday morning and visited some relatives in different parts of the city. On Thursday morning, I went to Honda Bigwing, Baguiati, to get the bike serviced. They found that the spark plug had worn out, and got it replaced. Other than that the bike was absolutely fine. I passed through Salt Lake at around 9:30am and the traffic was surprisingly well-managed. The road surface at Kolkata also felt much better as compared to Bangalore. Friday was another rest day and I went out for dinner with my cousin and her husband.
Day 4:Kolkata-Siliguri:575kms
Started this day a bit late – around 6am. I had read about the routes to take to reach Siliguri, and also spoken with some people who had done this route. The best route seemed to be Dankuni- Old Delhi highway- Kalna-Gouranga Setu-Krishnanagar- Farakka- Siliguri, so I followed that.
A Tram in Kolkata: Rare sight these days
Crossing the Vidyasagar Setu
Getting out of Kolkata itself took about an hour and a half, with horrible truck traffic on the Dankuni Expressway – the second scariest experience on my trip. Once I entered the old Delhi highway, the road was butter smooth all the way till Krishnanagar. From here till Farakka, there are some diversions and rural traffic but overall it's manageable. Google Maps took me on another adventure in Berhampore where it guided me through some rural roads and a police battalion to connect me with Ramendra Sundar Tribedi Bridge on NH 12. Once I crossed the bridge, the roads became butter smooth once again, all the way till Farakka.
Train on the Farakka Barrage
As a child, I was always excited whenever we crossed Farakka on our train journeys. Felt the same childish excitement again while riding over it and was lucky enough to see a train pass through at the same time. The highway has some broken patches near Malda, Google Maps took me through Raiganj town, which took a good 35-40mins to cross. Not sure if the bypass is ready.
I had read about the dreaded Dalkhola stretch. Thankfully the bypass was open and I sailed through this stretch.
Kishanganj was another place where I faced traffic and some bad stretches. I reached Siliguri outskirts by 7pm and reached my destination for the day – another cousin's place by 7:30pm. Had a home-cooked dinner and just fell asleep. Guwahati was just just a day's ride away. Even though this stretch was the shortest of my trip so far, it took the most time and was the most tiring. Kolkata-Siliguri is such an important stretch and it takes 13-14 hours to cover it. Hopefully, things improve once all the constructions are completed.
Day 5:Siliguri-Guwahati:474kms
I was quite familiar with this stretch and hence was relaxed. I left Siliguri at around 8am. Planned to take the Sevoke route, as it's more scenic and also because there is no truck traffic. In no time, I had reached the Dooars – the most beautiful stretch of my trip.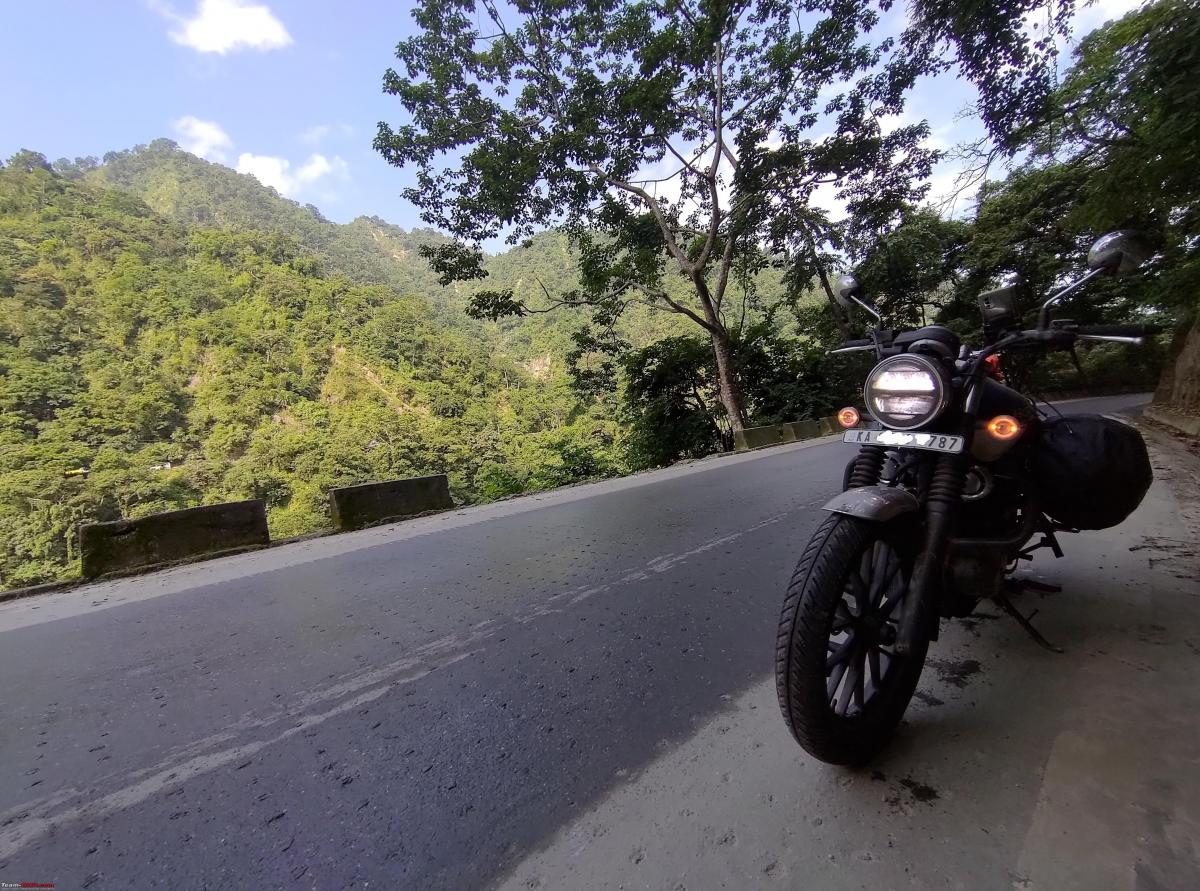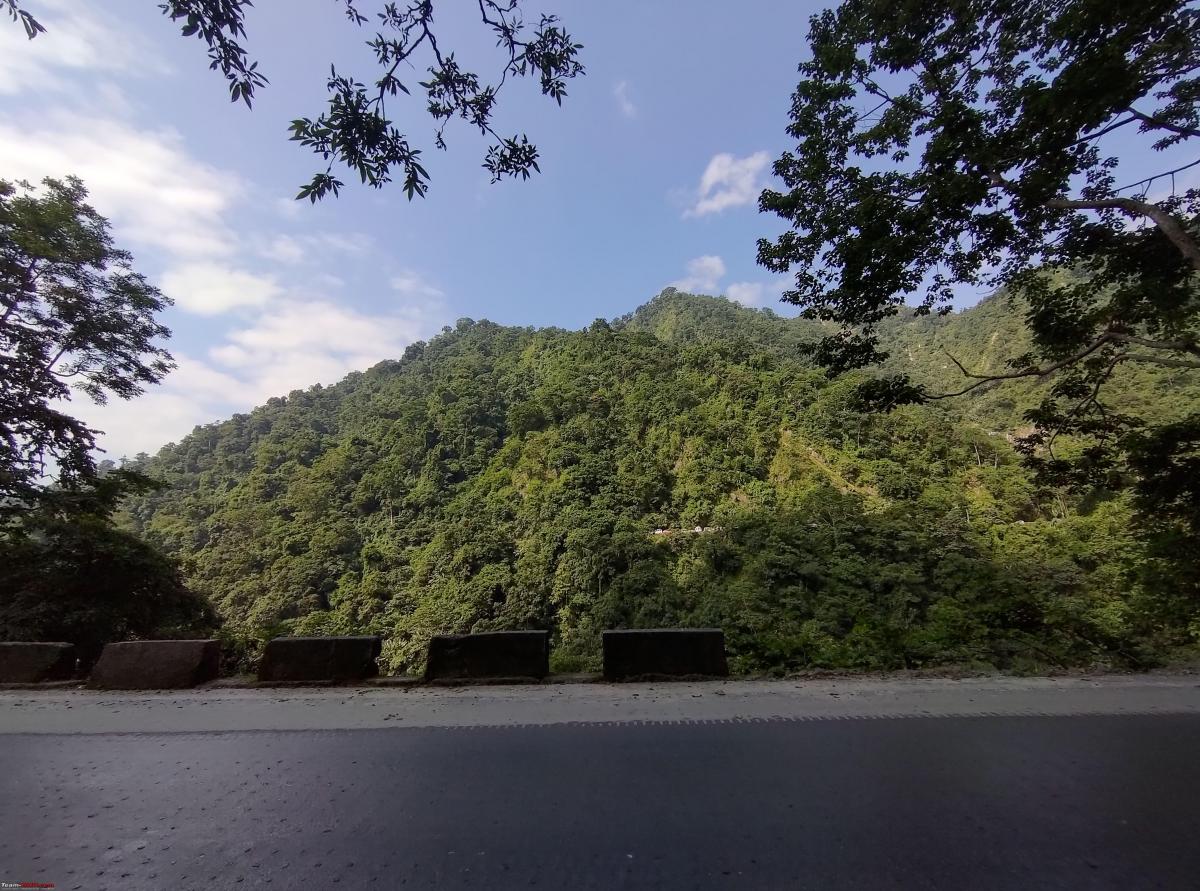 Chasing a train through the Dooars!
Crossed the Coronation bridge, with the Teesta River roaring below. There was heavy police presence along the entire stretch that day for some reason. Stopped for breakfast at Oodlabari, where I met a gentleman riding a Bajaj Avenger to Guwahati. He was curious after seeing a KA-registered bike there and we had a small chat. I would have ridden together with him but he was going at a slow pace of 50-60kmph so I bid farewell and went ahead. Crossed tea gardens and innumerable bridges along the way. I entered Assam at around 2pm.
It felt surreal, I had actually pulled this off! In my excitement, I barely took any more stops and rode on and reached my home in Guwahati by 5pm.
The Saraighat Bridge… Home!
So there it is, an item off my bucket list. My big wall of text ends here. I am glad to have pulled this off and thank the gods for facing absolutely zero problems on the journey!
Some numbers
Total distance covered = 2956 km
Total fuel consumed = ~ 85 litres
Total days on the road = 5
Memories collected = Priceless!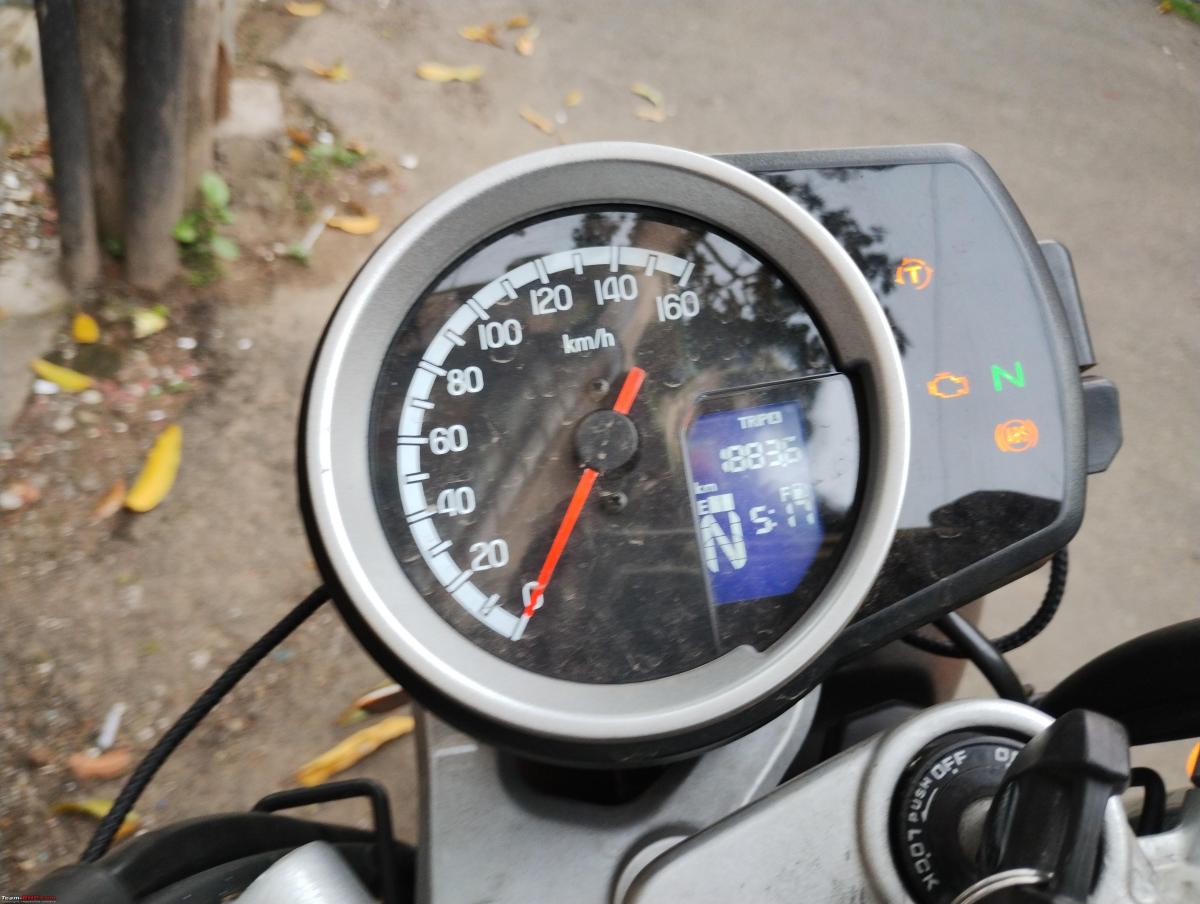 Odometer Reading: BLR-KOL
Odometer reading: KOL-GHY

6 states in a week!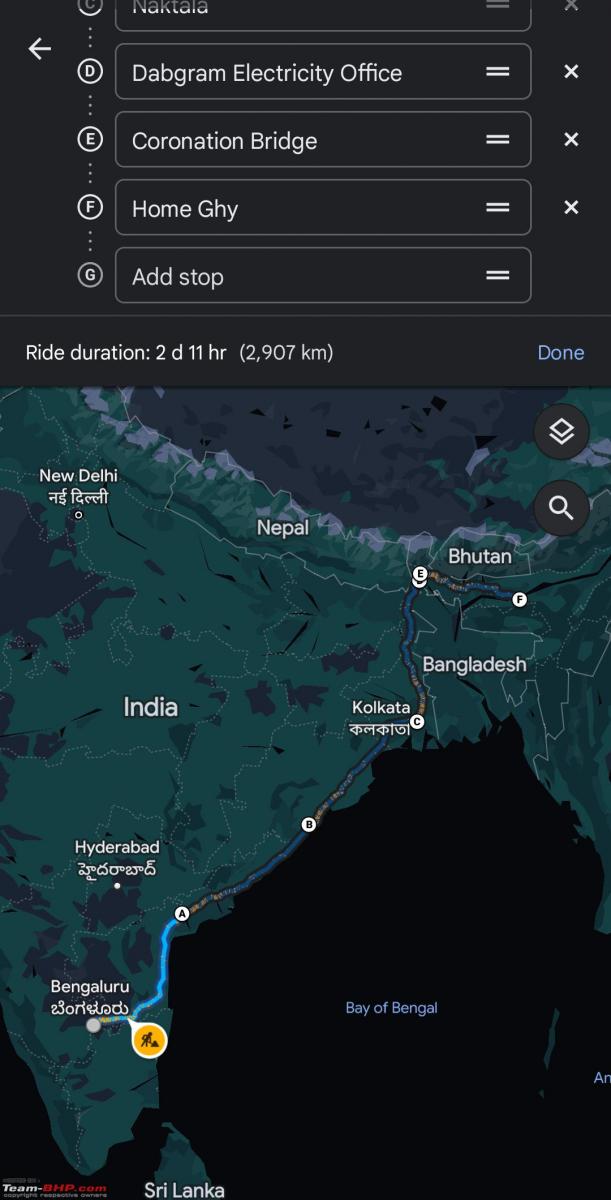 The complete route!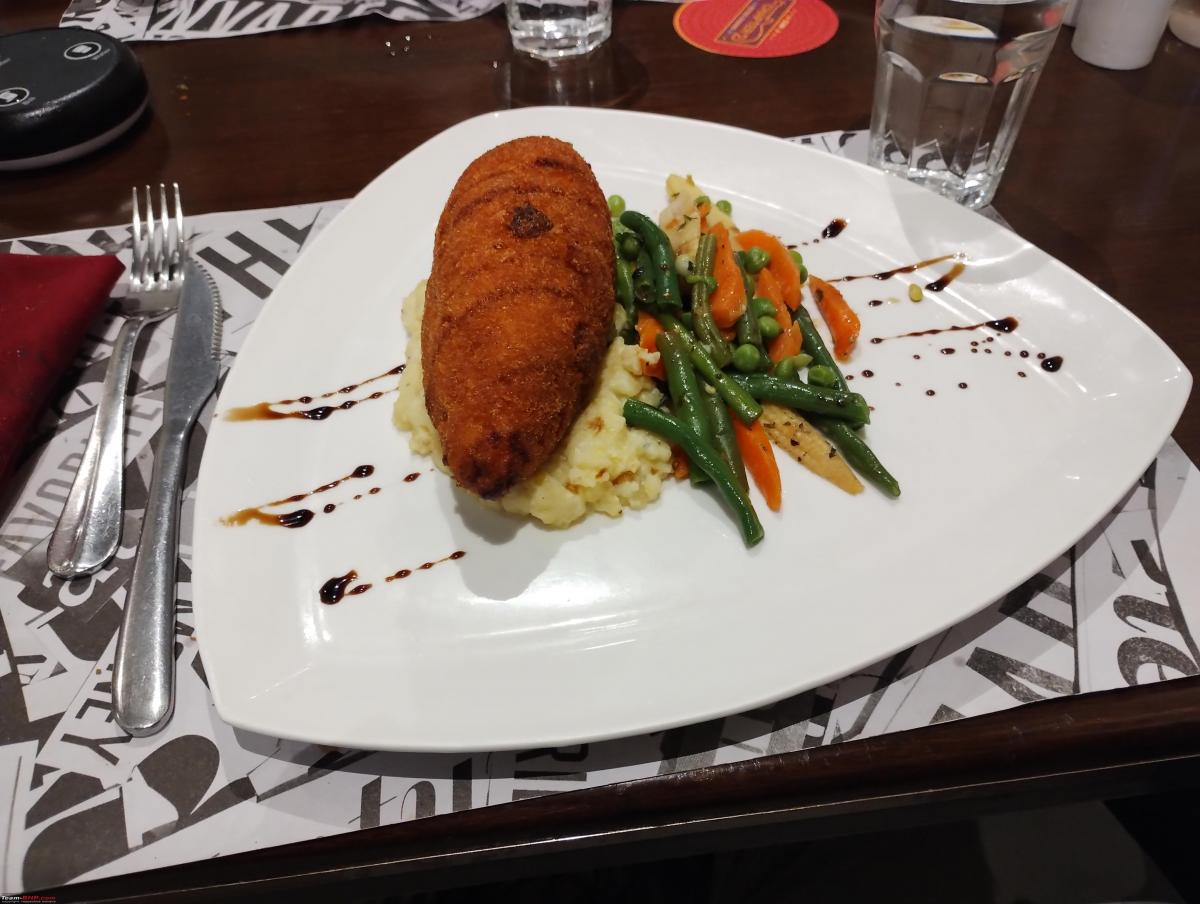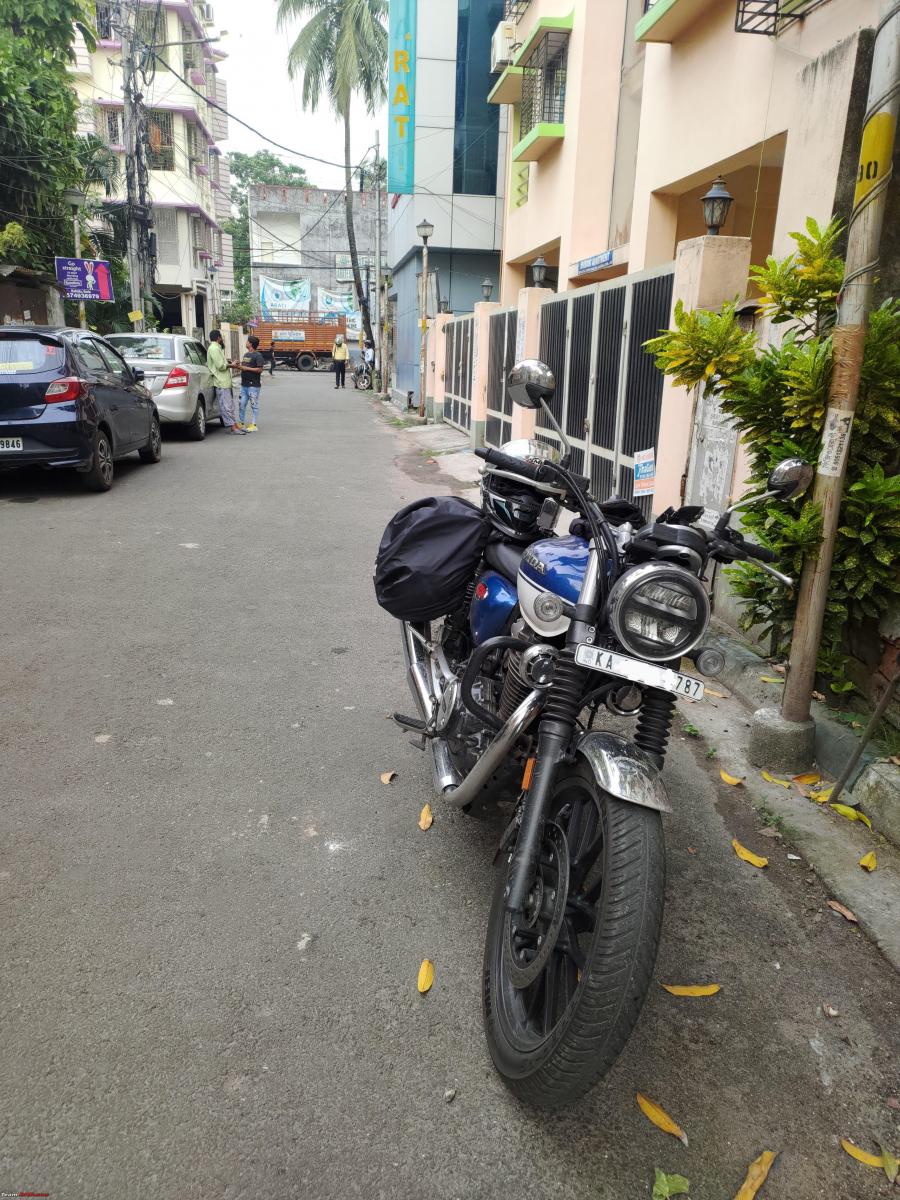 Check out BHPian comments for more insights and information.
Source: Read Full Article