I managed to extract around 15.8 kml mileage on the highway.
BHPian acquillew recently shared this with other enthusiasts.
2500 km update
So, my car has now completed 2500 km and I thought I will update this thread with what I have noticed so far. Dividing the thread into different sections for ease of reading.
Buying Experience
I bought the car from Punjab Mahindra, Ahmedabad, and my experience was good. I wouldn't rate it excellent, and not rate it bad. Whatever I requested was made available. I was not forced to buy insurance from them, and wasn't forced to buy accessories either. I took delivery of the car on the 30th of September and then went home for Diwali.
Attaching a copy of the Accessories invoice as provided by the dealer. Notice the difference in tax between Sun Shades and the other accessories.
Ceramic Coating
I got 9H done on my car at Neelkanth Automobiles in Gandhinagar. The owners are very good friends and this was almost free of charge for me. The results are good on a black car.
First Service
I got my car serviced at Punjab Mahindra again. The technicians were courteous and there is a sense of urgency when they see a ScorpioN in the service area. I was offered both Pickup and Drop free of cost. The car was clean and I asked them not to wash it. The following tasks were visible from the WithYouHamesha job card.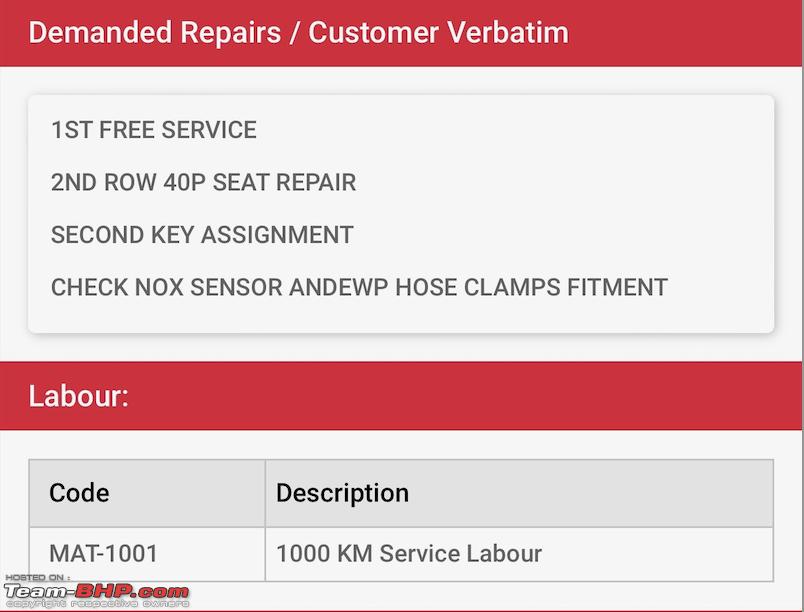 Car was dropped home without a second key. I have been told that for my series, the second key has not been received by the dealer yet.
Drive Experience
I love this car!
I am not an 'off-roader' and generally like sticking to tarmac. When I owned the Cruze and A4, I would choose roads and maps that would avoid broken patches, craters on roads, and narrow roads in the cities. With the Scorpio, I have discovered a new 'Me'.  The car can eat bad patches for breakfast and craters for lunch. I find myself slowing down less and less on bad patches and the car just manages these patches with ease. The first 1000 km of my drive in the Scorpio was mostly up and down from office to home, which includes driving from Ahmedabad to Gandhinagar and that is a 6 lane tarmac with no speed humps, and little traffic. Within the city, I constantly got in between 12 and 13 kmpl.
Last Saturday, I drove from Ahmedabad to Dwarka and came back yesterday. Ahmedabad to Dwarka – I started at 4:00 in the morning. Like I have mentioned earlier, the low beam is of little use. On the highway, I used the high beam and it has OK illumination. I cruised around 80-85 kmph till Dwarka and the mileage returned (tank to tank) was 14.7 kmpL. On my return, I started from Dwarka at 8:00 in the morning and cruised at about 95 kmph and the mileage returned was 15.79 (tank to tank). I feel this is a good number for a car this size. The car shifts into 7th gear at 90 kmph, and that's probably why you would get the best mileage just above 90 kmph. Another thing to note was that the car was at most ease after shifting into 7th, and was at about 1700 RPM at 95 kmph.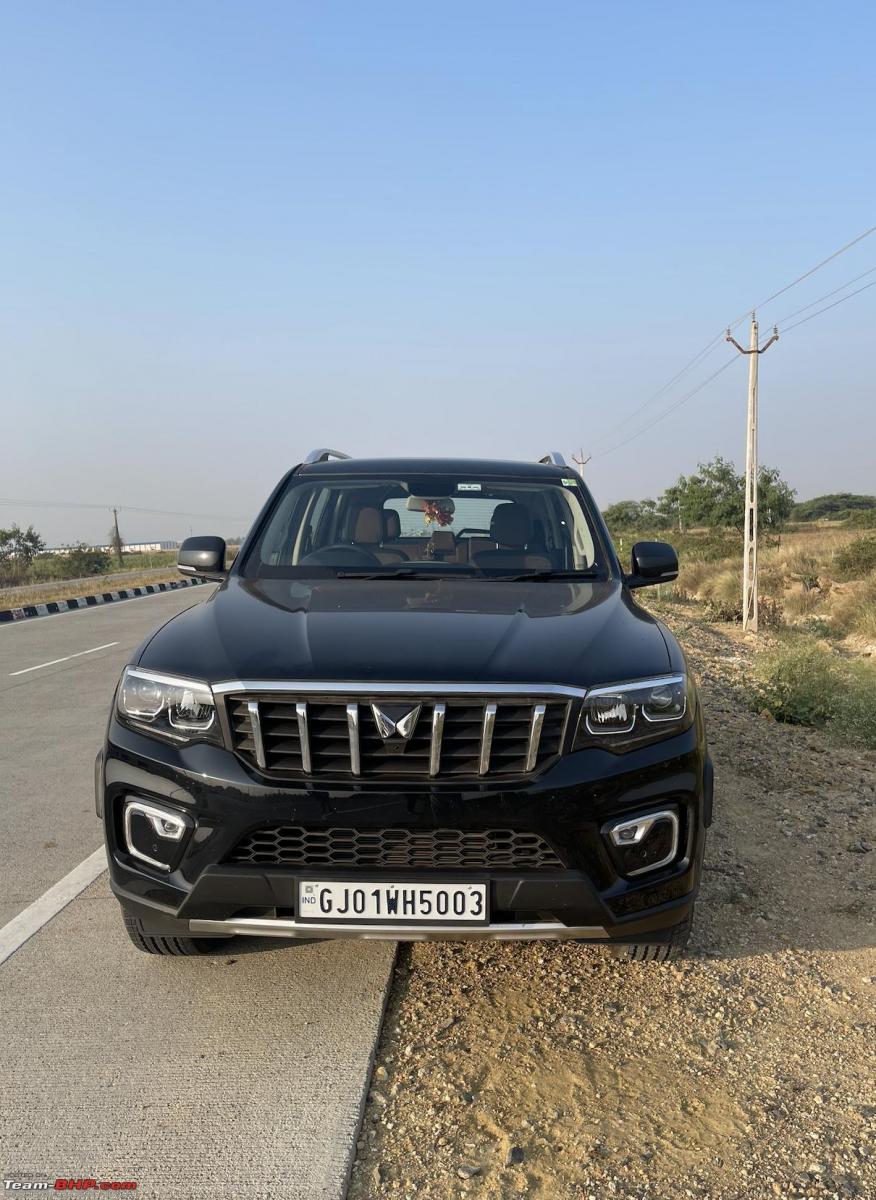 The car has enough power to take you anywhere and also to overtake slower cars on the road. The power delivery is linear in the Automatic but I never found myself wanting for more power. The gearbox is slick. On cold starts, the car shift gears at about 2300 RPM, and when the oil temperature is up, the gear changes happen at just around 2000 RPM. You will never find yourself in a situation where the car is driving at lower speeds in higher gears.
The Scorpio-N provides you with a silent drive – the car is well insulated from outside sounds. The tyres perform well, with good grip levels and low sound levels. The engine sound is also well contained and I think my Compass made more noise than this bigger engine. At cruising speeds of about 95 kmph, the cabin is super silent on highways. Oh yes, there is no sound from the suspensions whatsoever. Even on hitting bad patches, the car just glides and you don't hear the suspensions working. BUT – you do feel them working. There is noticeable movement in the car when it moves over rough roads, but nothing that breaks your confidence. The car comes back to being stable almost immediately.
Note: On concrete roads, I found the car to be moving a bit more than tarmac. Maybe I encountered a bad patch of concrete roads; will test it elsewhere and see.
Passenger Comfort
I had a couple of people in the car with me – both frequent travellers with me on my previous road-trips. They were both happy with the comfort of the car's seating.
Desirables: More recline in the second row and ventilated seats in the front.
Overall, I am pretty satisfied with my purchase. Thankfully, I have not had any issues with the car so far – none that have been reported by fellow members here. I will be travelling to Uttarakhand in the winters at the end of this year and hopefully will be able to check how the car performs in snow.
Cheers!
Read BHPian comments for more insights and information.
Source: Read Full Article